The SHINE Emerging Artists Programme, in partnership with Light Night Leeds, sees 3 light artists present brand new commissions to the public in Leeds and Salford.
SHINE  aims to identify, nurture, and develop new artistic talent. Commissioned artists are awarded bursaries to realise their idea, as well as mentoring and training from the Light Night and Quays Culture teams. This year's SHINE Artists are Sam Sebbage, Tom Skinn and Rob Harrington of Fixed Grinn Collective and Edyta Mąsior. We caught up with each of them to talk about their experience on the programme so far, and how things are looking for their second presentation of work at Lightwaves 2016.
Sam Sebbage – Footsteps
How does your experience of studying Theatre Design at LIPA influence your work as a light artist?
As part of the course at LIPA we looked in depth at the effects of lighting in everyday life, this experience allows me to take inspiration from natural lighting and adapt it for my work, although this does not directly apply to Footsteps. The course allowed me to develop my career, before LIPA I wanted to be a theatre technician however the course and the people I met through during my studies allowed my career to take a different path.
Where did your idea for Footsteps come from and how did it develop?
As with any design work, I began brainstorming ideas for possible installations to apply for the Shine Programme, whilst brainstorming I had a random film on in the background, a scene with a girl walking through a field leaving footprints caught my eye, the idea developed very quickly from this image and I actually sent the proposal the next morning.
What are you looking forward to most about presenting your work at Salford Quays/MediaCityUK? 
MediaCityUK is a very high profile location, so to have the opportunity to share my work here during LightWaves is very exciting, especially so early on in my career, though I'll admit that the thought does make me quite nervous.
Fixed Grinn Collective – Fireflies
Tell us a bit about yourselves.
We are Fixed Grinn art collective, based in York and Glasgow. We specialise in participatory installations, interactive technologies and the idea of play within art.
How long have you been working on Fireflies? Where did the idea come from?
Fireflies began in the summer, inspired by the bioluminescent lights of nature. As a conceptual starting point we took the movement and light of fireflies, creating an artwork that dances and interacts with those that approach the work.
You recently presented your work at Light Night Leeds with fantastic results, how are you feeling about the move from a venue space to the outdoors for Lightwaves?
We learnt a great deal after presenting Fireflies at Light Night. As a public art work context is integral. The difference between the indoor venue at Light Night Leeds and the outside world at Lightwaves is a great opportunity to develop the work.  Previously sheltered and now exposed to the elements, the Fireflies shall have to go though a state of metamorphosis.
In his Rules for Artists John Cage taught us to "Consider everything an experiment", something we at Fixed Grinn hold dear. 
Do you think this will pose any challenges?
As with all digital art works presented outdoors there are always challenges, weatherproofing and reenforcing the work is currently our main concern. Salford Quays sounds like a blustery place!
What're you looking forward to the most about presenting your work at Salford Quays/MediaCityUK?
As all artists we enjoy the making process. We're really looking forward to seeing the Fireflies in a new context, especially one as exciting as Salford Quays/ MediaCityUK. Particularly within this presentation we feel that the hanging and curating of the piece will prove an enjoyable and creative process.  We look forward to being among our peers within the Shine Program.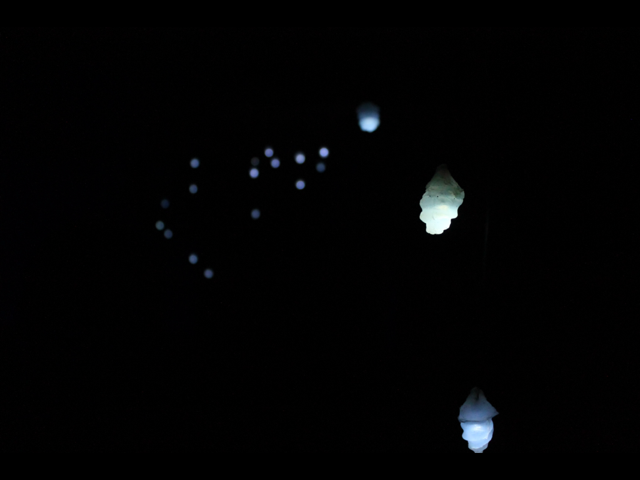 Edyta Mąsior – Laiki #5
There are a number of variations of Laiki, does your work develop and change in response to its location? 
Yes, it is always in response to a location, hence these variations. Change in location brings about development and this in turn builds up the series, which is about the resonating nature of a space.
Laiki is almost like a musical instrument in function, what is it that interests you about the relationship between light and sound?
Light gives possibility to experience space in a different way and adding sound to it enables interactivity with its viewer.
What're you looking forward to the most about presenting your work outdoors at Salford Quays/MediaCityUK?
I am looking forward to creating a link between location, in-between space and our perception of it, by bringing attention towards its structure – that's one thing. It also has to do with the title of the series: ʺLaiki" which in Greek means ʺopen street market", and is also indicative of a certain type of music, hence the choice for this title. Presenting this work outdoors is like bringing to the public realm a duality that is hidden within the very title of the work.
Beyond your work as a light artist, what do you enjoy doing? 
I like to work with time: I like filming, working with montage, as well as working within spaces – that's why my work takes on the form of installation environments; space is connected with sound. Interactivity allows the bounding of time, space and sound, along with the active participation of a viewer. I am also interested in the intersection between art and technology. Besides that, I enjoy swimming.