Hire art from us for international exhibition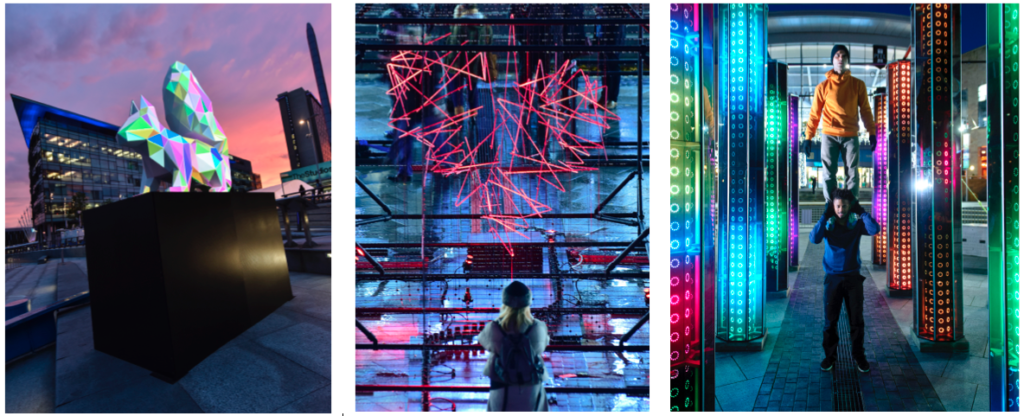 We own a selection of artworks that are available for hire. We can help you choose which ones will work for your location and what you will need to prepare to exhibit them. All of our outdoor artworks also operate as indoor installations.
See below for an introduction to our touring collection of artworks. If you are interested in hiring one or more of these unique installations, please contact Programme Producer Rachel Candler on [email protected].
Please take a look at this short promotional video for a snapshot of what's available.
Quays Culture are proud to have commissioned many artists in recent years, working with some of the best national and international digital artists to create installations that intrigue, excite and inspire audiences.
After being premiered at our events, a selection of our newly commissioned artworks have since been presented at festivals and events across the UK, as well as being presented on national TV.
Highlights include:
GNI's artwork Heart Beat exhibited at Jerusalem Light Festival 2017.  Squidsoup's Aeolian Light has toured to New Zealand, Mexico and in the UK at Light Night Leeds 2016, Lincoln Cathedral 2016.  Mads Christensen's Cathedral of Mirrors Blackpool's Lightpool 2016, Canary Wharf London's Winter Lights 2017 and BBC Breakfast as part of 'Shine a Light on Cancer' broadcast in 2016 and Jerusalem Light Festival 2017.
This page includes information on each artwork in downloadable documents, as well as images and video of what they look like. Get in contact so we can help you and supply you with a quote.
CURRENTLY AVAILABLE TO HIRE:
Mystery Bird
Born in the wake of strict social distancing measures and the cancellation of our beloved live events. Many of us experienced a renewed interest in our natural surroundings during lockdown 2020 – discerning birdsong again at a time when the world was quietly held at a temporary standstill.
Mystery Bird consists of an illuminated bird cage, a magical sound scape, and projection that will escape, cover the surrounding buildings and thrill an audience of all ages, abilities and accessibility.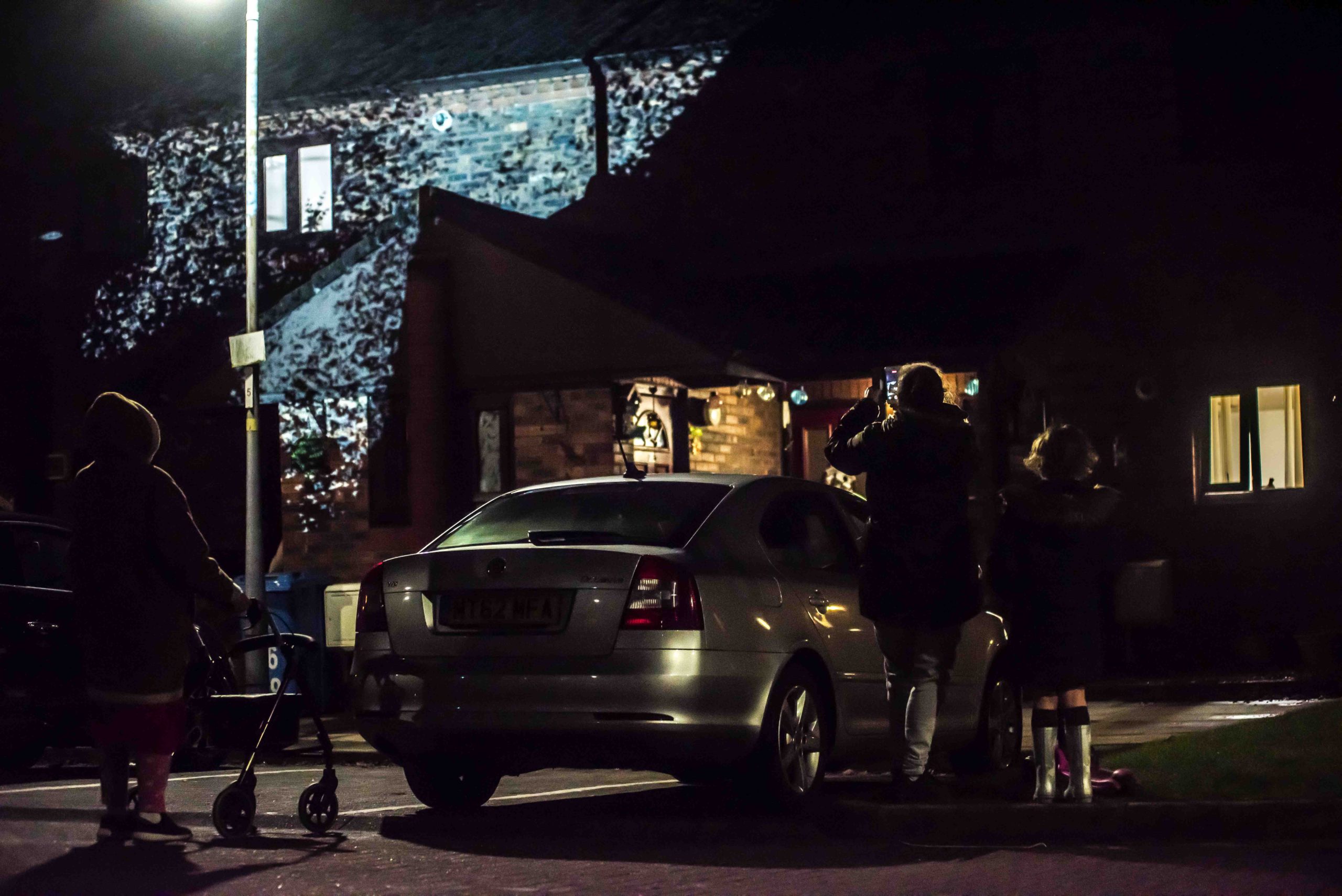 Image Credit: Chris Payne
Spectrum by HUB Studio 
A major new co-commission for 2018 and part of an exciting international collaboration with Montreal's Quartier des Spectacles.  Spectrum is an interactive installation that is activated by audience voices to illuminate the chain of circular lights.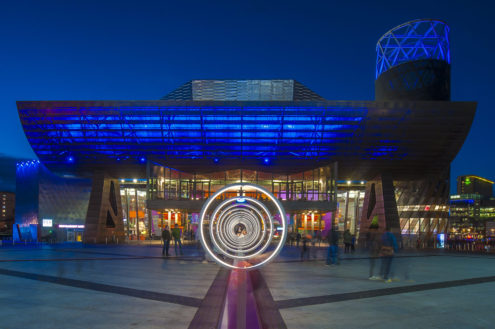 Spectrum by HUB Studio, Photograph by Jason Lawton – Creative Vision
Youth Culture by Stanza
A towering 3 metre tall, beautiful sculpture of a hooded youth that intentionally challenges our presumptions about youth culture.  An original Quays Culture commission by UK artist Stanza, Youth Culture visualises data and reflects audience presence using complex technology built into the sculpture.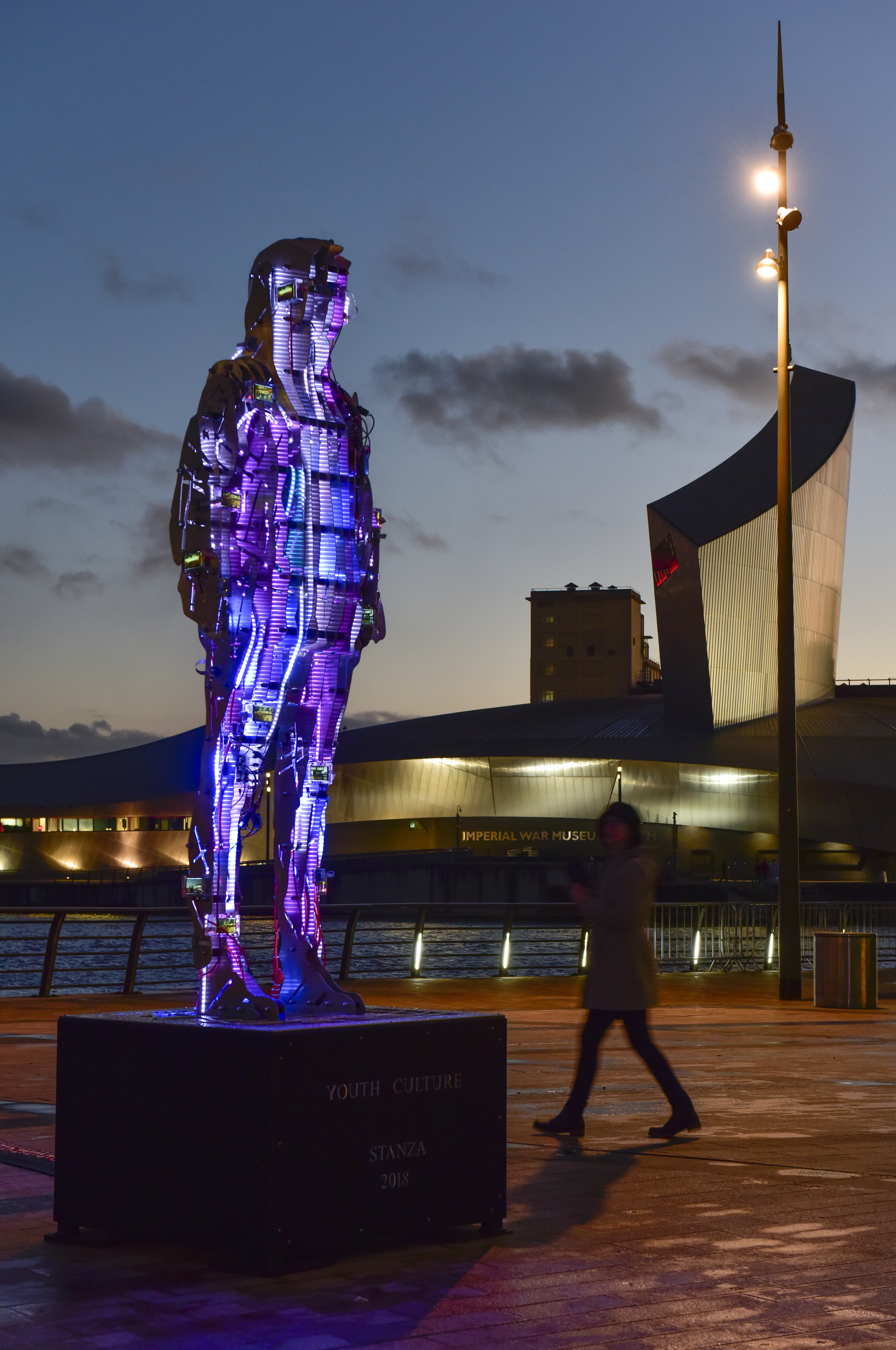 Youth Culture by Stanza. Photograph by Joel Chester Fildes
The Squirrel
The Squirrel was one element of Unnatural Borders, a Quays Culture commission by Sober Industries (Nl) as part of our annual free summer showcase of spectacular art that embraced technology in its creation and exhibition. Unnatural Borders explored the interaction and impact between human civilization and the animal kingdom.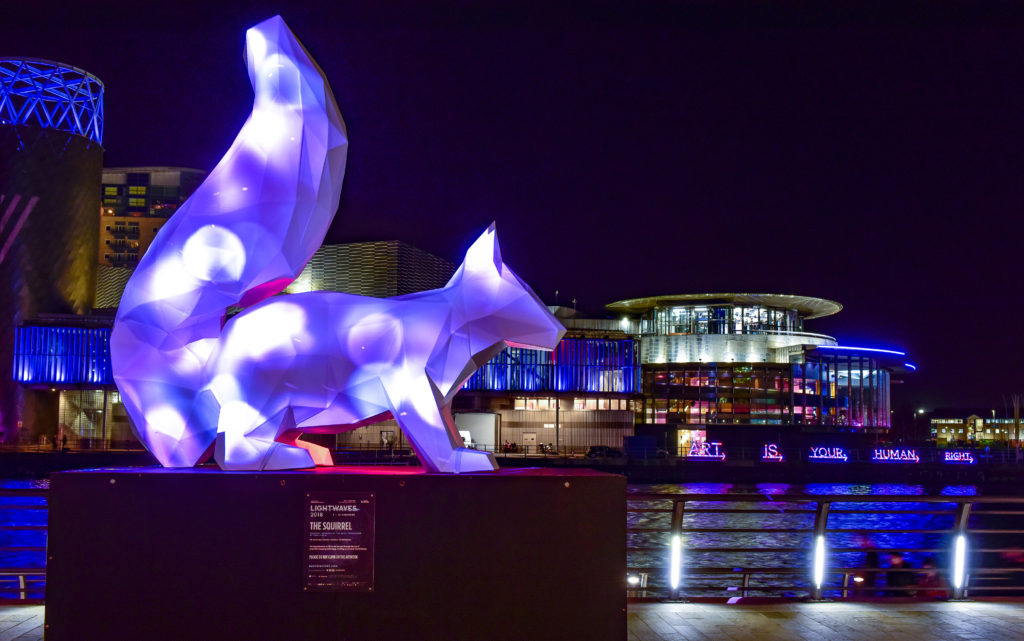 The Squirrel, original artwork by Tim Boin. Projection by Dave Lynch, Photograph by Joel Chester Fildes
Heart Beat
Our commission Heart Beat by GNI Projects is available to national and international festivals and events for presentation.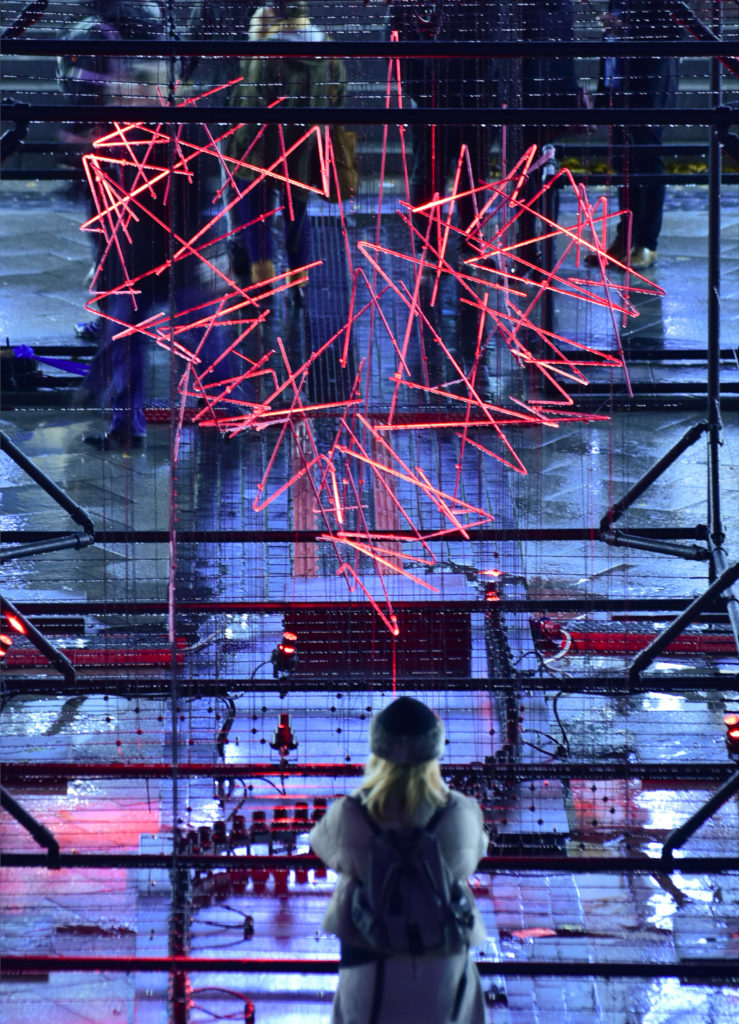 GNI Projects: Heart Beat. Photo by Joel Chester Fildes
Heart Beat premiered at Lightwaves 2016 at Salford Quays. The installation comprises of a 3mx9m structure, which incorporates perspective interplay through the seemingly sporadic positioning of steel rods. From the side, audiences see a heart rate line running through the structure. At the front of the installation, they are encouraged to join hands with a friend or loved one in order to complete the circuit, using the sensors to reveal the symbol of a heart. 
Cathedral of Mirrors
Commissioned for Lightwaves 2015, Cathedral of Mirrors by Mads Christensen is available for indoor exhibition.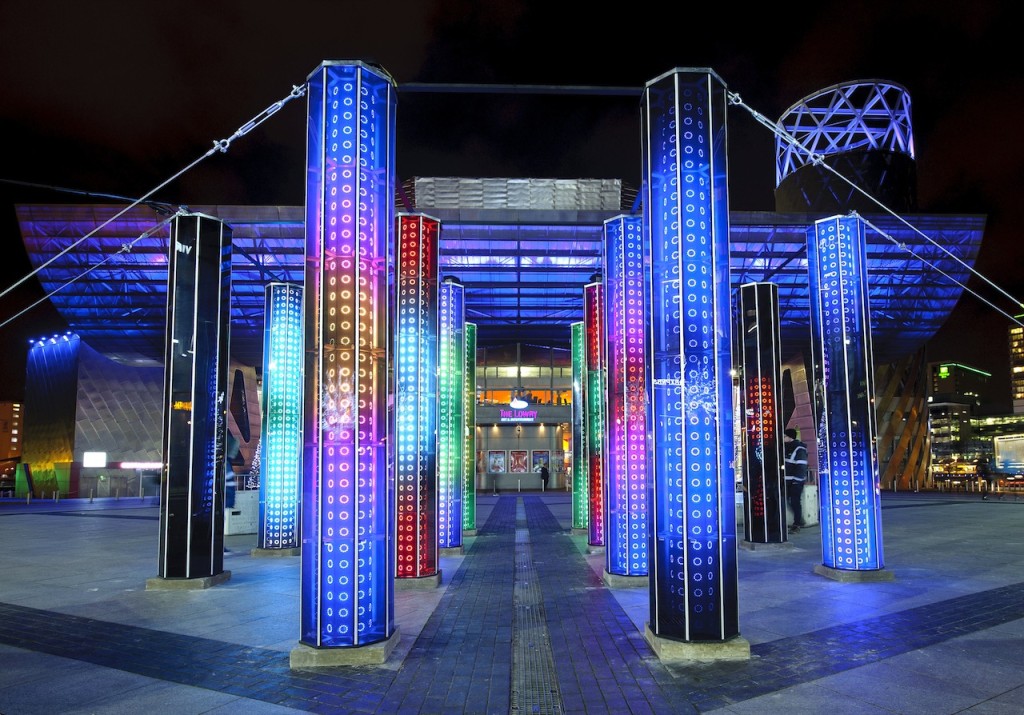 Cathedral of Mirrors comprises of 12 mirrored columns, each standing at a height of 12 ft. In bright conditions they reflect the viewer, and in darkness the internal LED lights react to human movement, creating patterns across a spectrum of colours.