What do five giant bunny rabbits, a rainbow of interactive balloons and hundreds of glow in the dark runners have in common? The answer is Quays Culture's artistic programme!
Since 2012, we have been bringing the best in cutting-edge digital technology, community-minded participation activities and spell-binding art and performance to Salford Quays. With a little help from film-makers extraordinaire, Viva La Zoom, we've turned this into a 90 second programme highlights trailer that shows what we do best. Have a watch and let us know what you think!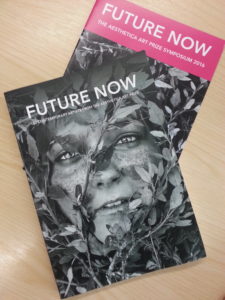 A particular highlight of Quays Culture's programme was our first commissioned art installation, Aeolian Light by international artists, Squidsoup, made especially for The Quays. The Squidsoup team are incredibly dedicated, inventive, and some of the nicest people to work with to boot – which makes it all the more rewarding to see them included in Aesthetica Magazine's Future Now anthology!
Future Now showcases the most original art across the fields of photography, digital art, sculpture, installation, performance, painting and drawing. You can pick up a copy for just £9.95 here.
We're also very excited about a brand new opportunity for young, aspiring dancers, led by the inspirational Company Chameleon. Their new youth dance company is launching at Manchester Central Library with FREE Taster Sessions on Sat 7 & Sat 14 May. Watch the video to find out more.
It's a fantastic opportunity to develop as a young dance artist through working with a professional dance theatre company.
Chameleon Youth: a new youth dance company for Manchester from Company Chameleon on Vimeo.