At the beginning of this month, Lucy and I took a trip to Helsinki and Amsterdam with the Lighting Up The North network, to visit other European light festivals and meet our peers from across the world. There are a fantastic array of light festivals worldwide, which all offer a different atmosphere, visitor experience, and body of work, and it is important to us as a creative team that we keep up to date with their programmes, and also have the opportunity to meet with other festival directors and curators. That's how European relationships form and future collaborations can happen. It also gives us the opportunity to put The Quays on the international map as a vibrant destination for audiences to visit and also for current and future artists to create and present their work. The LUTN network was initiated by The Arts Council England in response to the fact that the North of England has many established light festivals and their support encourages collaboration and sharing of resources and knowledge.
So our first stop was Helsinki, where we battled minus 25 degree weather to enjoy Lux.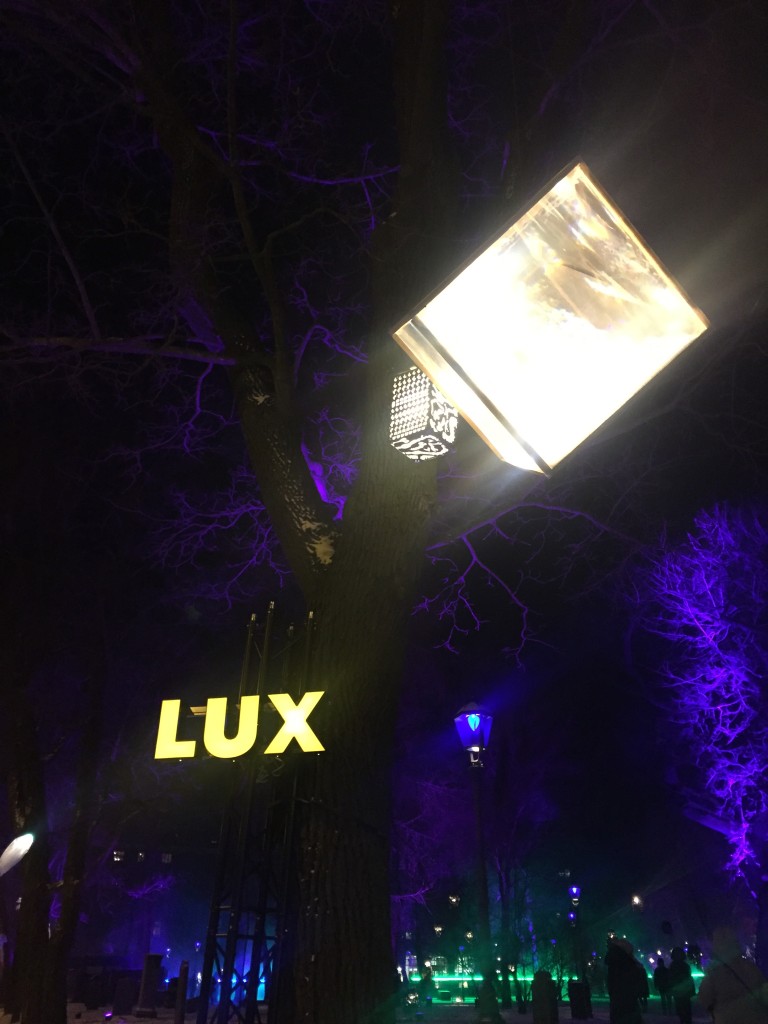 Now in its eight edition of a 5 day festival, Lux attracted over half a million visitors this year. 16 light artworks illuminated the city, by artists from Finland, Belgium, Canada and France, exhibited alongside many new commissions from Finnish artists, which was a fantastic celebration of the country's talent and creative drive. Old Church Park was particularly beautiful and peaceful, creating an inviting atmosphere for audiences to explore both Nathalie Chambart's Nowhere, and Lantern Park which included work by several artists. Entering the park from the dark, cold evening, we were welcomed by 250 lanterns, a sudden burst of light and warmth, which led to Kari Kola's Color Park where audiences could play and explore, as motion sensors detected and tracked movement in the space, reacting through the light's intensity and colour. Shader Oy's Megamap also stimulated the imagination and senses, with their 3D projection mapping of a collection of stories, which questioned what lies beneath the surface of very familiar things.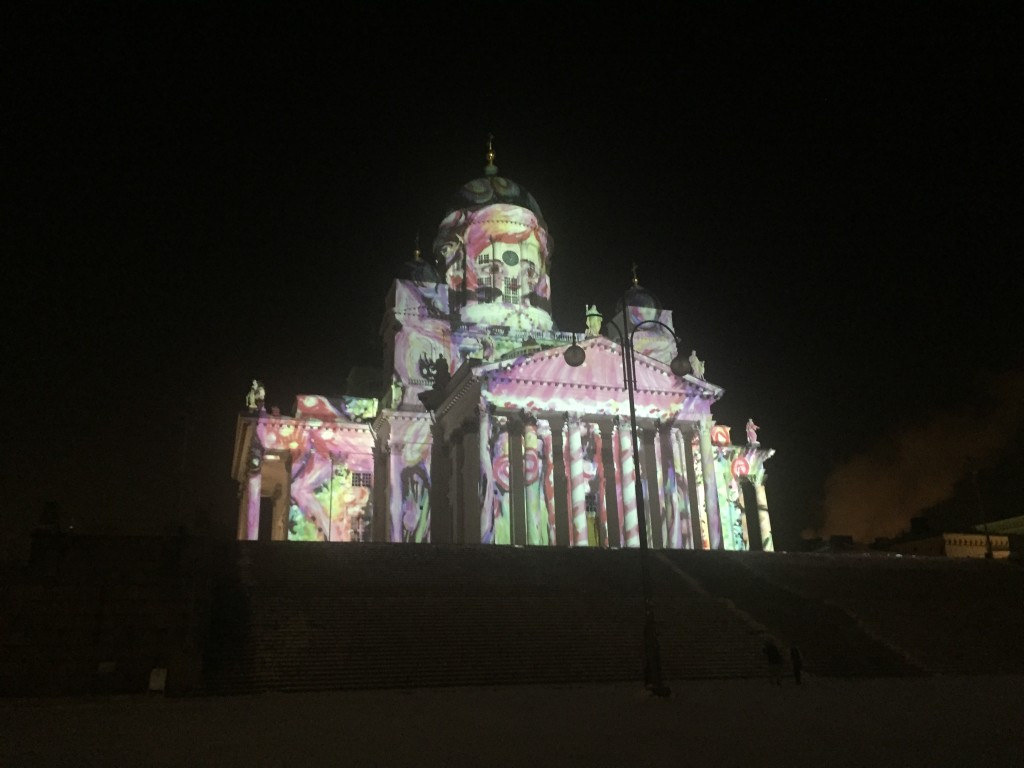 We also attended the symposium led by the Artistic Director of Lux, Ilkka Paloniemi. This gave us the opportunity to learn about a wide variety of other light festivals across the world, including Prague and Mexico, as well as an opportunity to present ourselves and raise international awareness to the array of light festivals in the North of England. Many artists also presented their practice and visions for future work, some of which may feature in our future programmes. Watch this space…
We then moved on to Amsterdam Light Festival for a boat tour of their light festival, which we had the privilege of being guided around by the Festival Director, Raymond Borsboom and their Partnerships Manager, Paul Swieringa. With such fantastic insight along the way, we went along, under and through an array of spectacular light artworks which all focused on this year's theme of friendship. From travelling under the enchanting wave of Anita Doorhein's Oosterdok to along the immersive 160 meter long lines of light of Ralf Westerhof's Herengracht, the festival captures the imagination and takes audiences along the water to create their own story.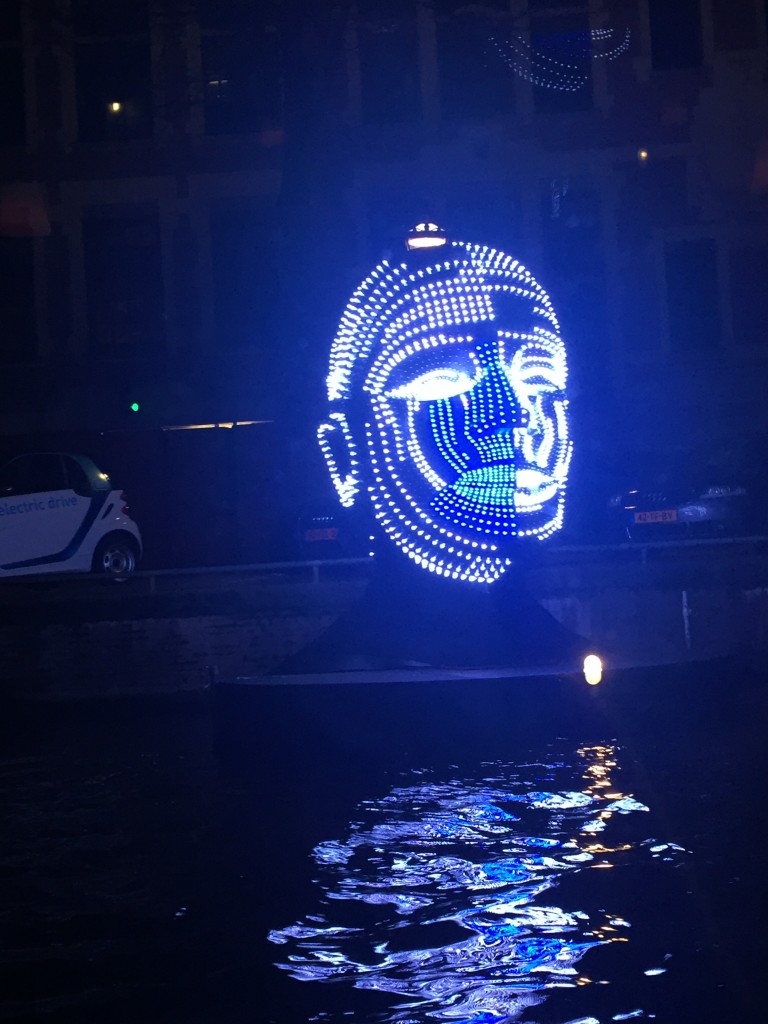 Taking place from 28th November – 17th January, this festival really does illuminate a large section of the darker winter months in Amsterdam, expecting an audience of 900,000. The theme of friendship was explored in very different ways by the artists but the idea that we all use light as a language with which to communicate and as a way to express ourselves, was a common thread which connected the works into a beautiful journey through the canals of the city. The festival has also opened its Open Call For Concepts, so if you have an idea for Amsterdam Light Festival 2016 – 17, get in touch today!
In the dark winter nights of Helsinki and Amsterdam, the light festivals brought the cities to life and transformed the spaces, allowing both residents and visitors to consider the cities around them in a different light (pardon the pun!)
Laura Broome, Quays Culture Programme Manager