LIGHTWAVES 2018


At the end of 2018 we had our unmissable Lightwaves festival return to Salford Quays for 10 days during December, packed full of impressive light displays and playful art installations.
The festival ran from Friday 7 December until Sunday 16 December 2018. #Lightwaves2018
Artworks were exhibited on a daily basis from 16:00 – 22:30.
We had public tours take place during the weekend and also a free Artist talk during the opening weekend along with a special performance from the Manchester survivors choir and a photo competition.
Artworks that featured during the festival as follows:
Mutator VR: Mutation Space & Vortex
by William Latham
Wearing a VR headset, you were transported to an interactive virtual world in which your movements impact on the surreal environment. An immersive psychedelic experience.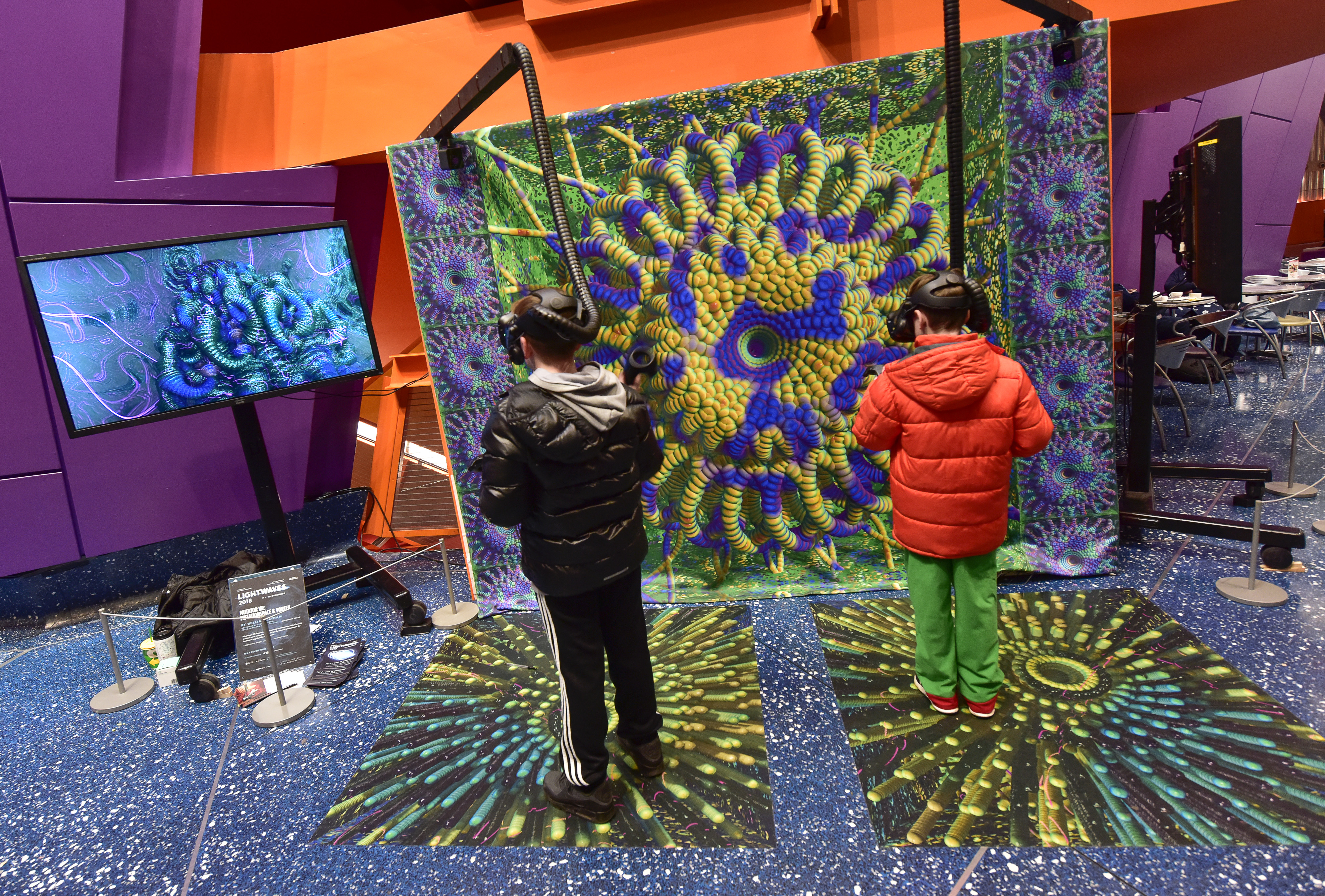 Spectrum
by HUB Studio
Spectrum was an interactive installation that activateD visual and sound imagery with the human voice. Users were able to speak messages and illustrate the process of communication throughout time and space.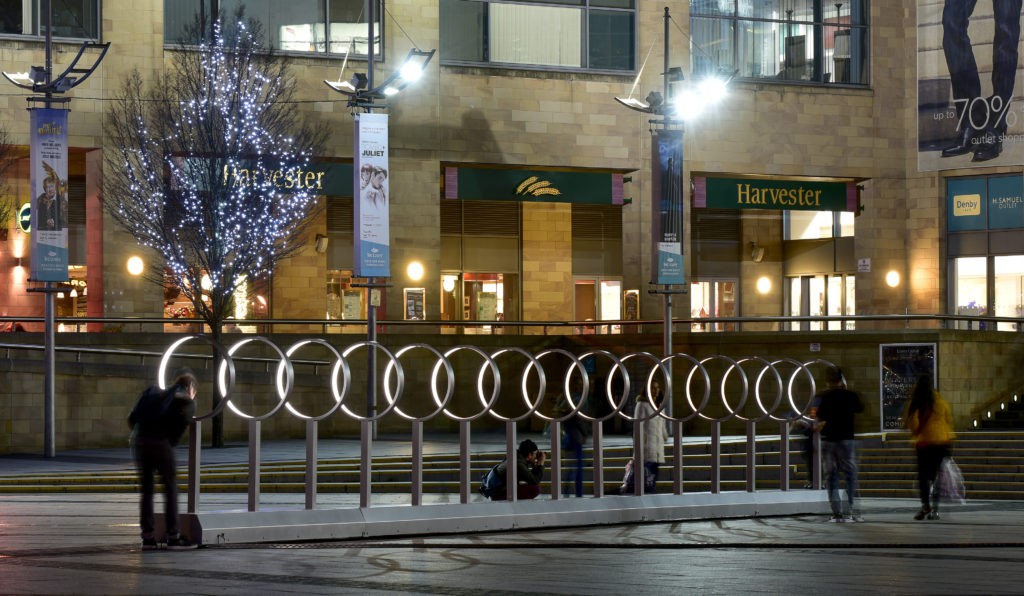 Mirror Stage
By Gillian Hobson, a SHINE commission
Using images from the artist's own home to produce a kaleidoscope of moving image, colour and light, this installation invited audiences to consider what it means to be 'at home' in the 21st century.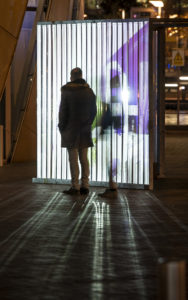 Blackpool Illuminations
Quays Culture showcased a curated collection of Blackpool Illuminations much-loved lights, including the popular Daleks and Tardis alongside an interactive surfboard!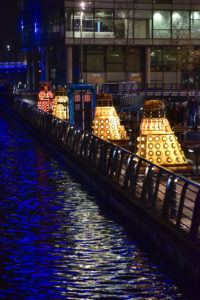 Illuminim
by Sophie Bullock, Anna Horton Cremin, Callum Kirkwood, James Medd, Gemma May Latham, and Lewis Sykes. Created in Salford Eagle Lab @ The Landing, MediaCityUK.
Everybody has their own rhythm. Audiences were invited to input the rhythm using the Illuminim application to illuminate a row of lanterns floating on the Jetty near the water; all built with input from Salford's artistic community.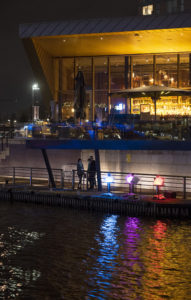 Relax & Release
by Kimatica Studio    http://www.kimatica.net/
An interactive digital installation encouraging movement and play to take you on a journey through the states of relaxation and release by the interaction with live reactive visuals.
Heart Beat
by GNI Projects
An original Quays Culture commission, Heart Beat invited audiences to join hands with a friend or loved one in order to complete the circuit, using sensors to reveal the symbol of a heart.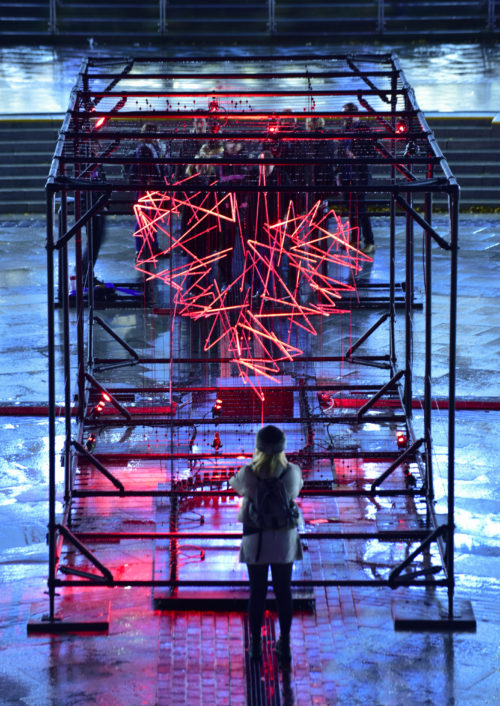 The Squirrel
Original Artwork by Tim Boin, projection by Dave Lynch
The Squirrel came to life as the sun sets through the use of projection mapping technology, creating a mesmeric visual display.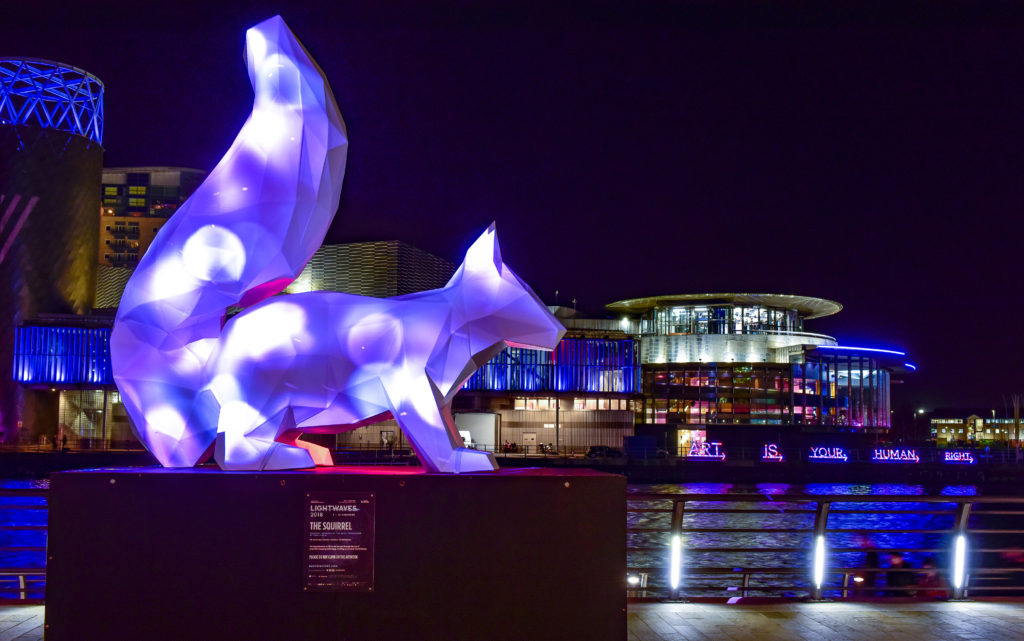 Youth Culture
by Stanza
The sculpture showed a strong hooded youth through which collected data and information flowed.  A towering beautiful hooded sculpture.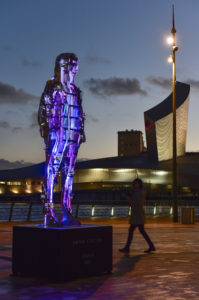 Aura
By Ronan Devlin, a SHINE commission
A digital mirror reflecting audience motion and emotion. The moving image work captured human form and feelings through camera and biometric sense technology.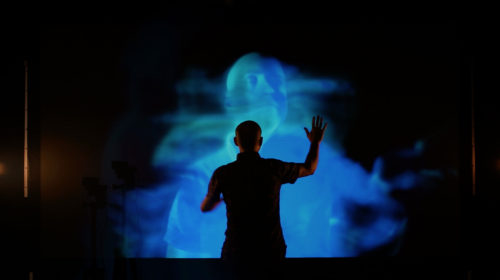 Light Lab: Light Up The North
An indoor exhibition featuring artists: Aether + Hemera, Mick Stephenson, Debi Keable, Fixed Grinn Collective, Chris Paul Daniels, Dave Lynch and David Ogle.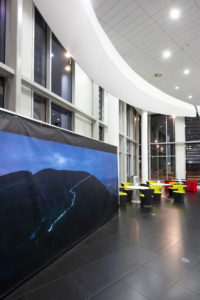 Colour Curiosity
Megan Fell, a SHINE commission
Relive your childhood playfulness as you find bold colours and sounds hidden within magical cabinets in the MediaCityUK gardens.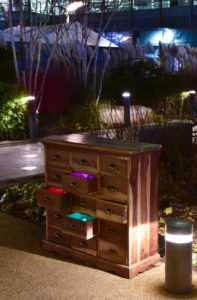 Electronika K9 walk
by Jane Webb, a SHINE commission
A transforming light installation of a boy walking his dog home. Created with recycled wires, from computer and electronic components, that are assimilated.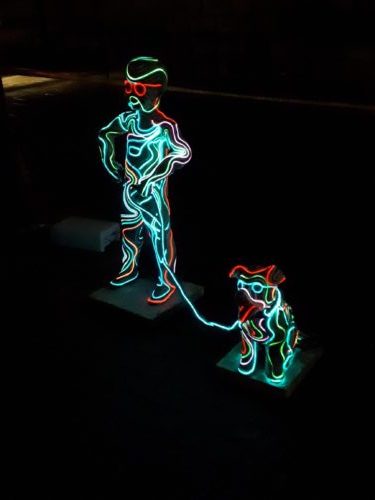 The SHINE programme supports emerging artists and is delivered in partnership with Light Up The North network.
Images used  by Joel Chester Fildes
CHARGE 
Electrifying Dance Circus
SAT 9 JUNE, 9.30pm
Free Event – Outdoors at MediaCityUK
Our Summer event was a one-night only exclusive outdoor performance with world class dance circus company Motionhouse. CHARGE is an exhilarating multimedia show inspired by the role of electricity in the human body, and for the first time it was re-created as an outdoor spectacular that was free for everyone to attend.
As part of this there was an exclusive Artist Talk by Kevin Finnan MBE, Founder and Artistic Director of Motionhouse.
Before the main performance Max Calaf Sevé, a contemporary circus artist performed Anyday, a trampoline and physical theatre piece.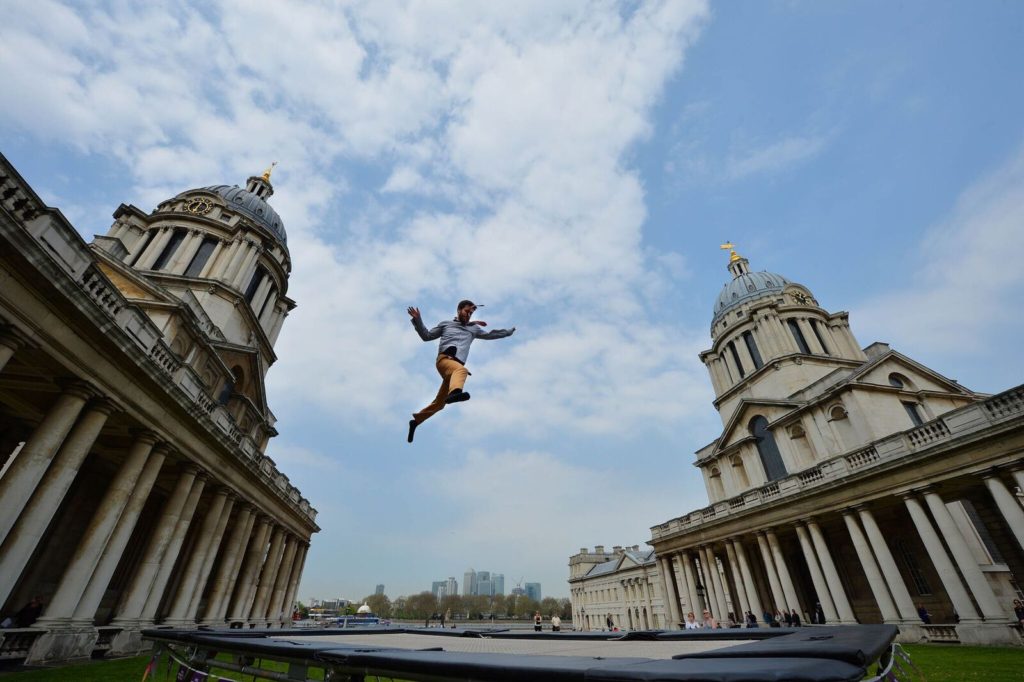 Suitable for audiences of all ages
Charge Show duration: 72 minutes
#CHARGEQUAYS

TECHNOLOGY: PAST & FUTURE
DIGITAL ART EXHIBITION WITH ARTISTS FROM ALL OF GREATER MANCHESTER'S BOROUGHS
Quays Culture hosted a Greater-Manchester wide art exhibition, in partnership with the University of Salford. Celebrating the breadth of digital talent across Greater Manchester, one artist representing each of the 10 boroughs showcasing a unique artwork incorporating digital techniques during the exhibition which ran from 09th April until Friday 4th May 2018.
This FREE Pop Up Digital Art Exhibition was displayed in the public foyer of the University of Salford, MediaCityUK Campus. Pioneers of outdoor arts and cultural events, Quays Culture commissioned the display to draw on the region's unique talents in the field of digital arts. Quays Culture brings together a new fusion of art and community to the public realm, with an exhibition that had never before been seen at Salford Quays.

Photography Credit: Rado Daskalov
RADO DASKALOV (Bolton):
'Loss Generator' consists of a digital camera and a screen. The camera transmits live video to the screen, which is re-captured and creates a loop. This process of continuous recording and transmission creates an abstract image. The 'Loss Generator' is a responsive installation. Visitors are invited to discover different ways in which they can interfere with the flow of data and manipulate the image.
Daskalov is a photographer who uses unconventional approaches in his practice, meaning his images often sit outside of the conventions of the medium. This work is inspired by the phenomenon of Generation Loss, in which data gradually becomes corrupted when transformed from one format to another.
CROCKER ART (Bury):
Crocker draws inspiration for his piece, Bury Bustling, from passersby in Bury. His quick sketchbook drawings use traditional dip pen and ink, combined with modern digital techniques in collaboration with artist Matt Wilkinson. The text he uses are overheard conversations at the time of drawing. Using work from sketchbooks, his paintings and drawings tell honest stories about everyday life inspired by the surrounding urban landscape.
ED FLORANCE (City of Manchester):
Florance's 'Human Bath' depicts a digital non-place, where a character is stuck anticipating endlessly. The animation features 3D props, arranged in such a way, which is seemingly plausible, yet improbable in the real world. Through the use of physically based computer rendering techniques, an odd event is constructed, where the distinction between reality and computer generation is blurred. The loop aims to disrupt preconceived ideas of expected characteristics within moving imageworks, where a standardised linear and developing timeline is used. 'Human Bath' perpetually suspends a timeline, initiating a cyclical, looping, and pending affair. Florance's work taps in to the computer-driven culture of the man-made world we live in, designed to provide for all our needs and keep us continually entertained, while the non-man-made environment slips deeper into the realm of the imaginary.
BAZ ARMSTRONG (Oldham):
Armstrong's work has been created using a combination of digital 3D models derived from architectural floor plan data, digital photography and 3D digital surface mapping techniques, which are frequently used in computer game graphics production. His final abstract composition shows selective views of architectural form and imagery created from degrading surfaces within Oldham's disused Victorian library building. Oldham's old library building has recently been granted funding to be restored to its former glory, and will become a new Heritage and Arts Centre.
JOHN COOKE (Rochdale):
Cooke's love of photography, architecture and art, especially Expressionism inspired his artwork, as a form of 'New Expressionism'. Inspired by everyday buildings and scenes that people see and walk past without a second glance, he visualises and photographs at an angle that most people would not consider, to produce an image that is interesting and unusual, and ultimately changes people's perceptions.  Adding micro thin layers of colour brings his work to life.
BEN ARK (Salford):
Ark is a self-taught artist and an emerging artist on the Salford urban art scene; he will be showcasing two cityscapes featuring Salford Quays, The Lowry and MediaCityUK. The artworks combine artistic technology past and present, incorporating traditional painterly techniques with photography and digital software. Through his work, Ben is creating a discerning record and study of the urban landscapes, and districts of the North West. His aim is to create pieces that are visually appealing and evoke emotions and a sense of familiarity.  Ben's distinctive style intentionally slips from precise photorealistic detail to less defined washes of colour, aiming to challenge the idea of what is real.
DANIEL WILTSHIRE (Stockport):
Wiltshire's work looks at the combining of aesthetic ideals from Neo-Classicism and glitch aesthetic. Inspired by photography and museum displays, these sculptures combine the textures, patterns and colours of glitched image files, which are then reimagined in to a new display. The sculptures are a nod to Roman, Greek and Hellenistic cultures, which were colourful in their appearance.
LIAM HOPKINS (Tameside):
Overseeing the creative design and end-to-end build and installation processes for a wide range of international clients at Lazerian, as well as a series of industry-acclaimed conceptual projects, is British designer Liam Hopkins. Lazerian is a contemporary creative studio that manipulates established design concepts, digital technology and functional materials to create radical solutions in architectural decoration, exhibitions, lighting, furniture, jewellery and sculpture. Hopkins' creation of Local Fish explores new concepts in multi-dimensional design. Inspired by the inherent strength found in paper, wood and carbon fibre, Hopkins finds strength and beauty in the lightest and most ubiquitous of materials.
VRON HARRIS (Trafford):
Harris' looping film was shot between March 2017 and February 2018 in Brockwell Park Community Greenhouses, a community garden in the centre of Lambeth's Brockwell Park.
The film is embedded within Harris' wider practise, which is interested in the construction of film, the representation of time and the materiality of different media. There's an interest in the possibility of using still images to create a sense of movement and moving images to create a sense of stillness.
LOUISE ROBSON (Wigan):
Comprised of a network of computers and Microsoft Kinect sensors, Flow continuously collects, transmits, and visualises data about the movement of people in space. Each node on the network collects motion-tracking data, and instantly transmits it to another node where it is used to generate a drawing – a visual re-presentation of the presence and movement of people. The state of the artwork is entirely dependent upon its surrounding environment, and therefore the people (or lack of) within it. Since being introduced to coding in 2014, Robson's practice made the transition to become almost entirely digital, focusing upon the way in which technology can be used to create artworks, which are symbiotic with their surroundings.