OPEN CALL – ARTISTS FOR COMMISION
GLOW – RHS BRIDGEWATER and LIGHTWAVES – SALFORD QUAYS
DEADLINE FOR APPLICATIONS: FRIDAY 11TH AUGUST 2023
£10,000 commission for Project between two light festivals in one city – Salford – at the same time.
Lightwaves
Lightwaves is an annual interactive light festival presented at Salford Quays, home to Media City. Each December, the event attracts in excess of 400,000 visitors to explore a trail of illuminated installations that animate and transform the outdoor surroundings. With an exceptional track record in bold new commissions, the festival is proud to support international artists alongside local and emerging talent and has a growing focus on enrichment activity with local communities at its heart.
The festival is part of the Quays Culture Programme, a partnership Initiative with a mission to animate public spaces, bringing extraordinary art into the heart of the community for everyone to experience free of charge.
Glow
Let it Glow! An unmissable after dark spectacle of lights that takes place across all 5 RHS gardens over the festive period. Opening in May 2021, RHS Bridgewater ran its first ever Glow. Glow is now returning in 2023 for its third year. The trail runs across four nights for seven weeks starting in mid-November and ending at the end of December and is a meticulously designed light trail designed to enchant visitors and enhance the natural beauty of the garden.
The Commission:
We are looking for artwork ideas that will create a point of connection between the two festivals, feeling equally at home in both.
Consider the two festivals settings – one in the built environment and the other nature rich, both representing Salford's diversity of places.
The call out is open to artists working all medium but must include light as part of the work and be suitable to present outdoors in winter.
The successful commission will also need to:
consider both environmental impact and sustainability
look to engage with both the communities at Bridgewater and Salford Quays.
We particularly welcome applications from Greater Manchester Artists.
We are committed to encouraging diversity and intersectionality in the arts and we actively encourage proposals from artists from under-represented communities, including people who experience racism, identify as working class, have disabilities, are from the LGBTQ+ community, are care experienced or are discriminated against.
We encourage you to apply for this opportunity no matter what your age, caring responsibilities, disability, gender, gender identity, marriage and civil partnership, pregnancy and maternity, race, religion or belief and sexual orientation.
The budget
£10,000 including materials, fee and travel expenses.
How to apply
Please submit a written or video synopsis and budget for the project along with a copy of your CV any supporting imagery for the project and images of previous works to: [email protected] no later than Friday 11th August.
Dates:
Closing Date: Friday 11th August
Interview dates: 15 & 16th August
Drop In session online: Monday 31st  July 12-2pm. Please contact [email protected] for more information.
If you'd like to visit the sites, please contact [email protected]
Presentations:
Lightwaves 7-10 December 2023
Glow 15 Nov 30 Dec Wed- Sat 2023 Presentation dates to be decided.
NB: Commission is subject to the outcome of a pending Arts Council England funding application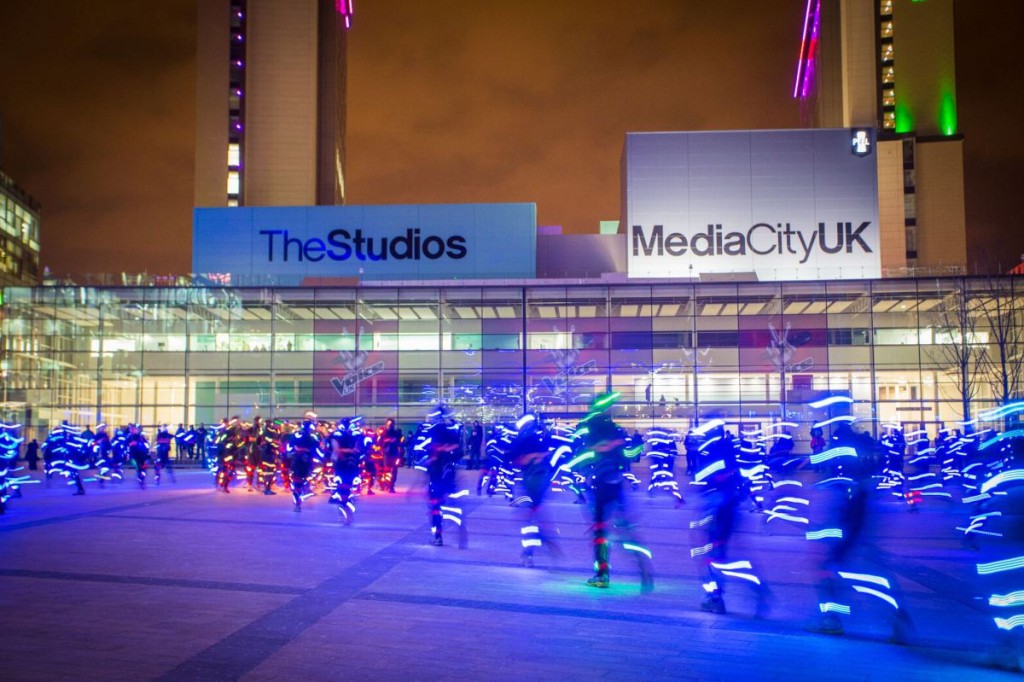 Photo: NVA's Speed of Light by McAteer Photograph