It's been an action-packed week since the launch of Lightwaves 2015 on Saturday 12th December. With the three temporary installations established within their Salford Quays base and attracting admiring audiences from afar, let's take a moment to recap on all the action!
Featuring a drinks reception for invited guests and a special one-off performance from Company Chameleon, our launch event on the 11th December was an opportunity to showcase the interactive elements of our brand new commissioned artwork, Cathedral of Mirrors by Mads Christensen, co-presented with University of Salford.
Company Chameleon's choreographer, Anthony Missen led a dynamic troupe in a semi-improvised routine around the twelve columns of LEDs, earning a four star review in one of the leading web sites dedicated to dance and classical arts, and an enthusiastic response from the invited audience.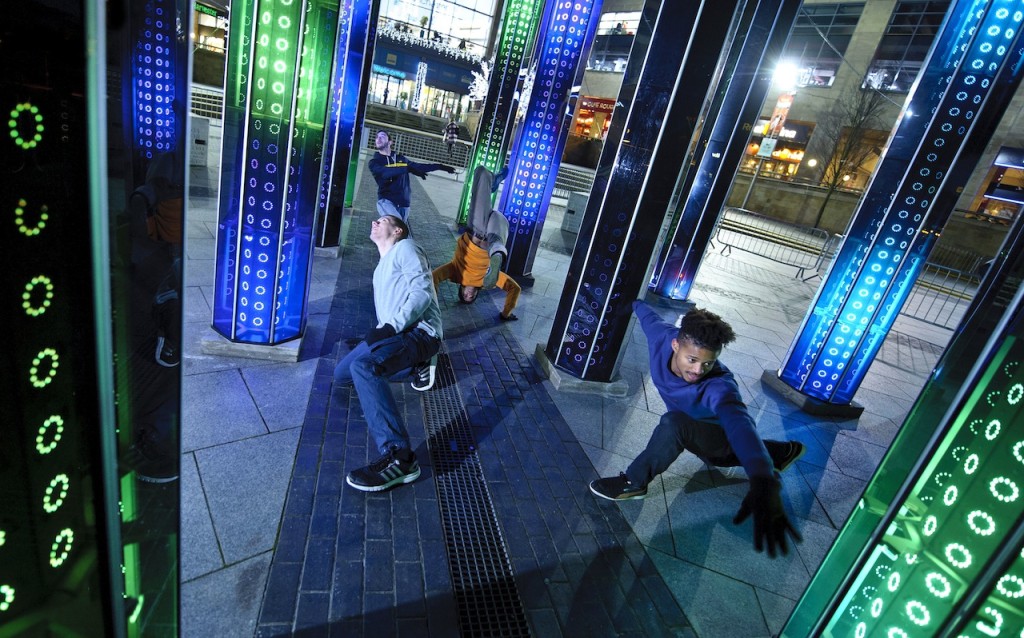 Company Chameleon performing in Cathedral of Mirrors
The performance also marked the first night of illumination for our three Lightwaves 2015 artworks. In addition to Cathedral of Mirrors, we're pleased to present Marcos Zotes' immersive AMAZE and Amanda Parer's playful Intrude bunny rabbit installation, which have been turning heads and winning hearts all over.
"This is a beautiful piece of work and as I work near by, it's becoming the high light of my morning and evening commute as well as my lunch break!" – Facebook Feedback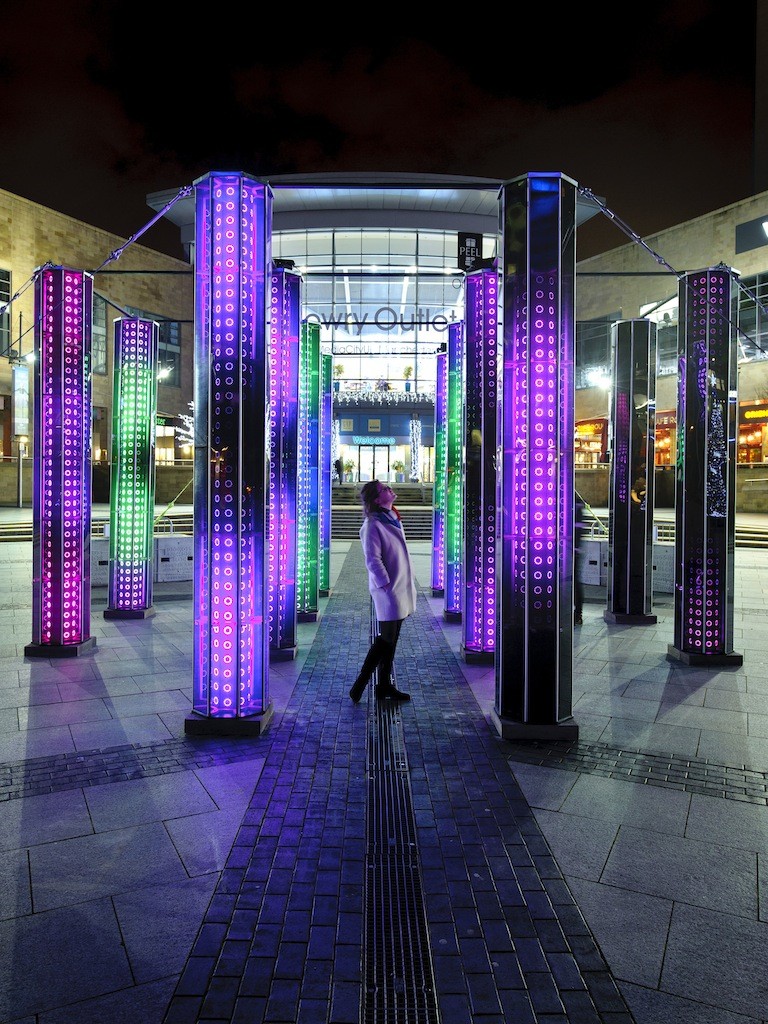 Cathedral of Mirrors by Mads Christensen
"Lovely evening at #lightwaves15! Apollo loved the maze and rabbits!" – Twitter Feedback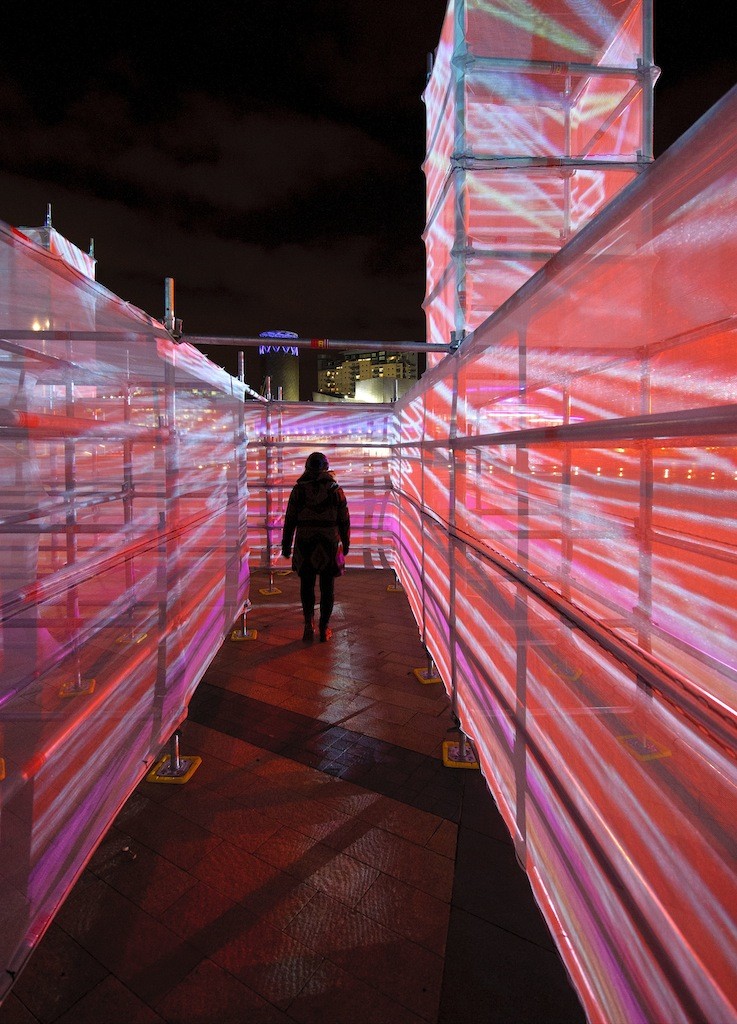 AMAZE by Marcos Zotes
"Giant rabbits at Media City! Very pretty addition to the evening dog walk. #lightwaves15" – Twitter Feedback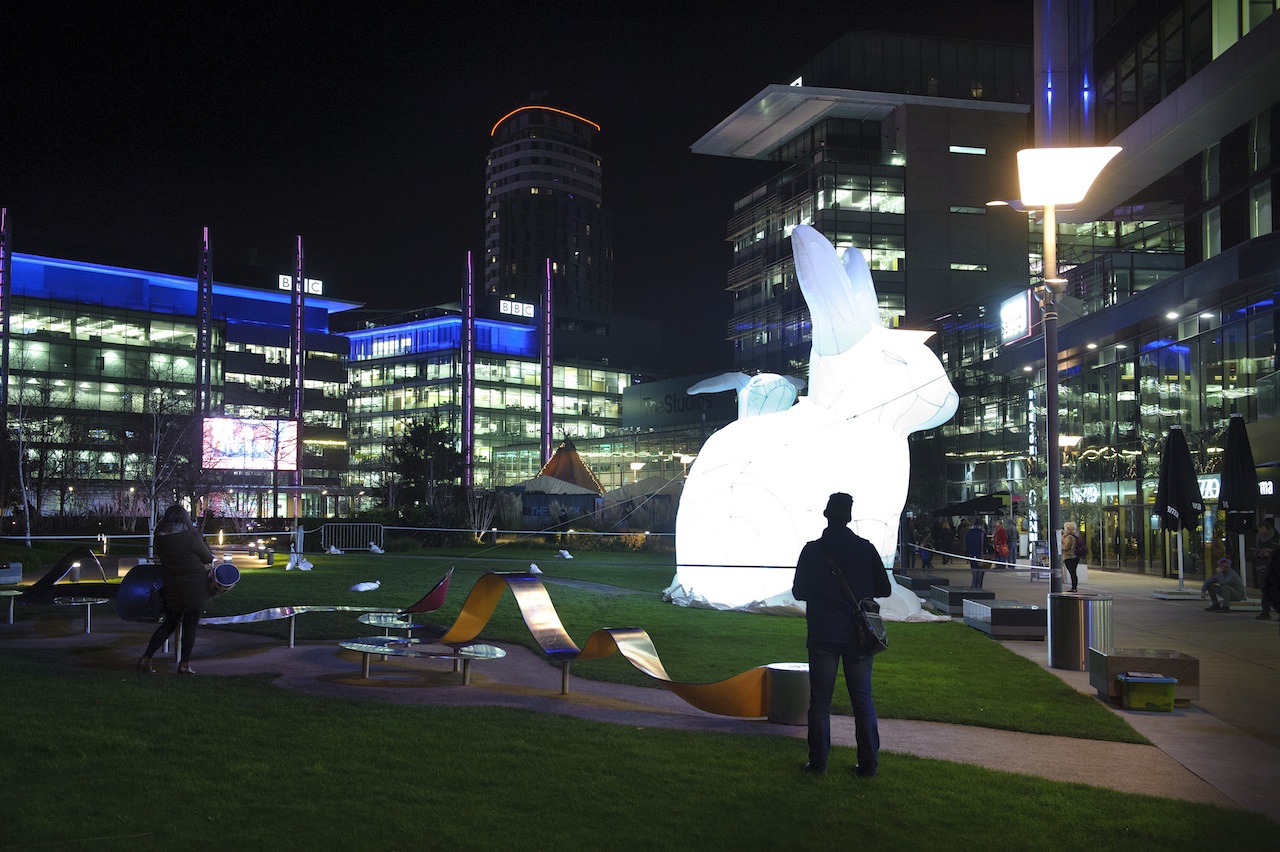 Intrude by Amanda Parer
The launch day also saw us host a free artist talk with Mads and Marcos, who gave an insight into their working practice and inspirations whilst taking questions from the audience at The Lowry's South Room, followed by a dance performance by University of Salford BA Dance students and Alumni Company, Allegiant Dance Theatre, another site-responsive piece inspired by Cathedral of Mirror's unique structure.
We've also been host to a number of very special groups over the past week, including Manchester Roller Derby, who came together to show-off their own sartorial take on Cathedral of Mirrors' colourful luminosity, and a group of parents and babies brought together by Baby Moves, an organisation dedicated to child development through sensory play. Both of these groups showed off the ways in which public artworks and the public can interact; artistic inspiration and emotional well-being going hand in hand.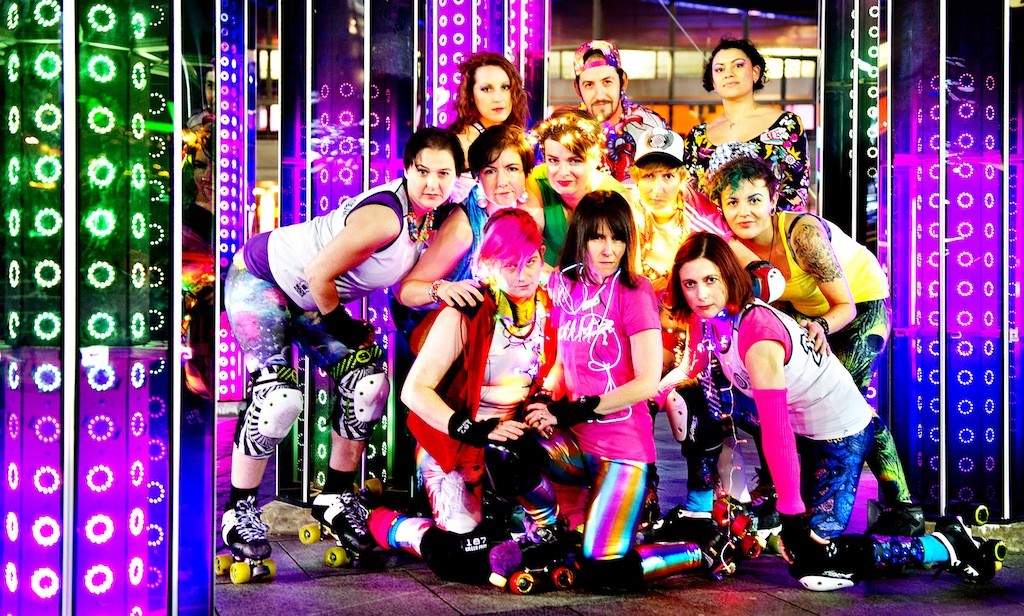 Manchester Roller Derby at Cathedral of Mirrors – Image by Shirlaine Forrest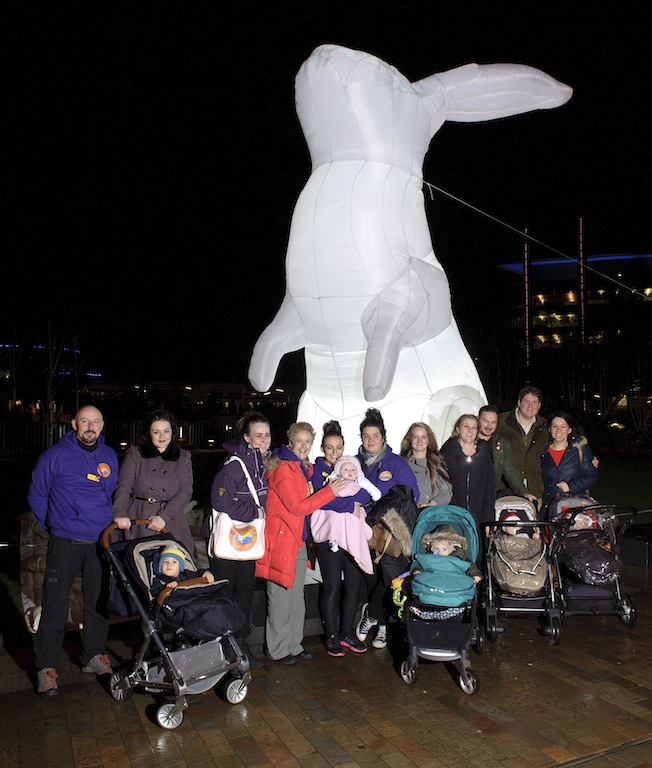 Baby Moves outside Amanda Parer's Intrude
We also welcomed back very familiar faces at a special event held on Saturday 19th December: Stuart Childs brought his interactive 'Scratchie' stall to The Lowry Plaza, showing the public how easy it is to create and take home your own free digital artwork; and the Honour Choir returned for a special half-hour performance nestled within the Cathedral of Mirrors, their beautiful choral renditions of classic songs and Christmas carols resounding through the Lowry Plaza.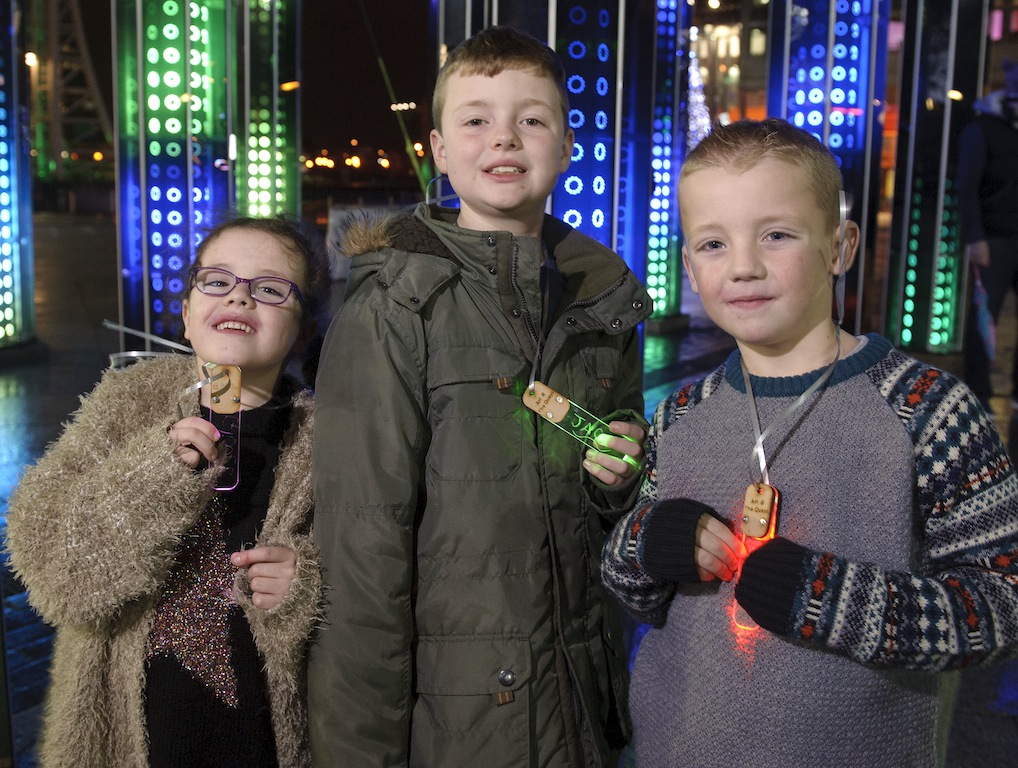 The audience feedback has been overwhelmingly positive, with people sharing their thoughts and photos on Facebook, Twitter and Instagram. To see what other people are saying, or to add your own voice to the conversation, use the hashtag #lightwaves15!
Lightwaves is open until the 27 December. Come down and visit anytime between 4:30pm – 10:30pm (except for 25 December: closed; and 24 & 27 December: noon – 6pm). We look forward to seeing you there!
All images by Joel Chester Fildes unless stated otherwise.