January 2014, MediaCityUK Studio Foyer
Dave Evans' new sculptural piece, 'A Piece of the Action' was made especially for the studio foyer at MediaCityUK, and was part of our sculpture series in the studio foyer at the Quays.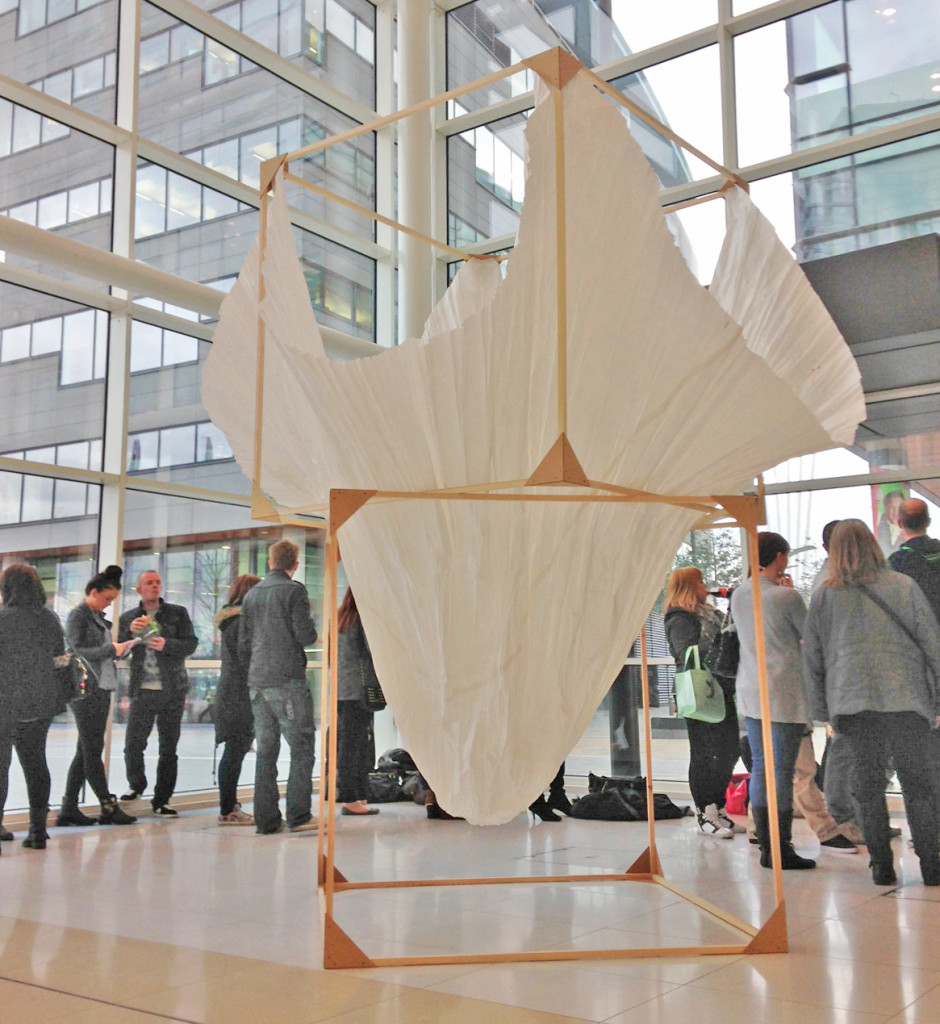 Evans is a talented artist with and was recently commissioned by The Bluecoat Liverpool for the exhibition 'Portfolio NW'.
Evans is inspired by the sets of 60's and 70's science fiction TV such as Star Trek and Space 1999 and is fascinated by its ability, through an economy of means, to introduce cosmic time scales into the consciousness. Evans co-opts the B- Movie aesthetic of papier mâché planetary landscapes and pushes it to a more refined conclusion. He explores the inherent limitations of the genre (humankinds inability to predict the future) while celebrating the creative impulse to generate this imagery and attempt to apprehend the flow of time.
Evans uses everyday materials such as paper, wood and string and transforms them in the studio. Lightweight materials are compressed, polished and layered to build strata, creating impressions of action that references both the individual creative act and cosmic/ geological motion.
About the Artist:
Dave Evans was born in Liverpool. He studied sculpture at the University of Wolverhampton, followed by Printmaking at The Royal College of Art. He is an ex-director and studio holder at The Royal Standard and he also teaches Fine Art at University of Lincoln. Recent exhibitions include 'Land Odyssey' at GENERATORprojects, Dundee, new work commissioned for 'Portfolio NW' at The Bluecoat, Liverpool, and 'Some' Misunderstanding [on Mondegreens and Pareidolias]' at Castlefield Gallery Manchester.
About the Studio Foyer Series:
From mid February until mid May 2014 Mark Devereux projects will be showcasing three of the artists on their professional development programme as part of the sculpture series; Phoebe Eustance's 'Pavilion after Giotto', Liz West's 'Vanishing Boundaries' and Nicola Ellis will be returning, this time with her monumental piece 'Peregro'.
Credits:
Presented by Quays Culture and Umbrellium
Funded by Arts Council England, AGMA and Salford City Council