November 27th 2013 – 6th January 2014, MediaCityUK Open Centre
Quays Culture presents Hilary Jack's thoughtful and inspiring large sculpture 'Inside Outhouse'. For Quays Culture's sculpture series in the studio foyer at MediaCityUK, Jack revisited her interest in dwellings by presenting 'Inside Outhouse'. This was a new commission for Packwood Follies at the National Trust's Packwood House that previewed here at The Quays.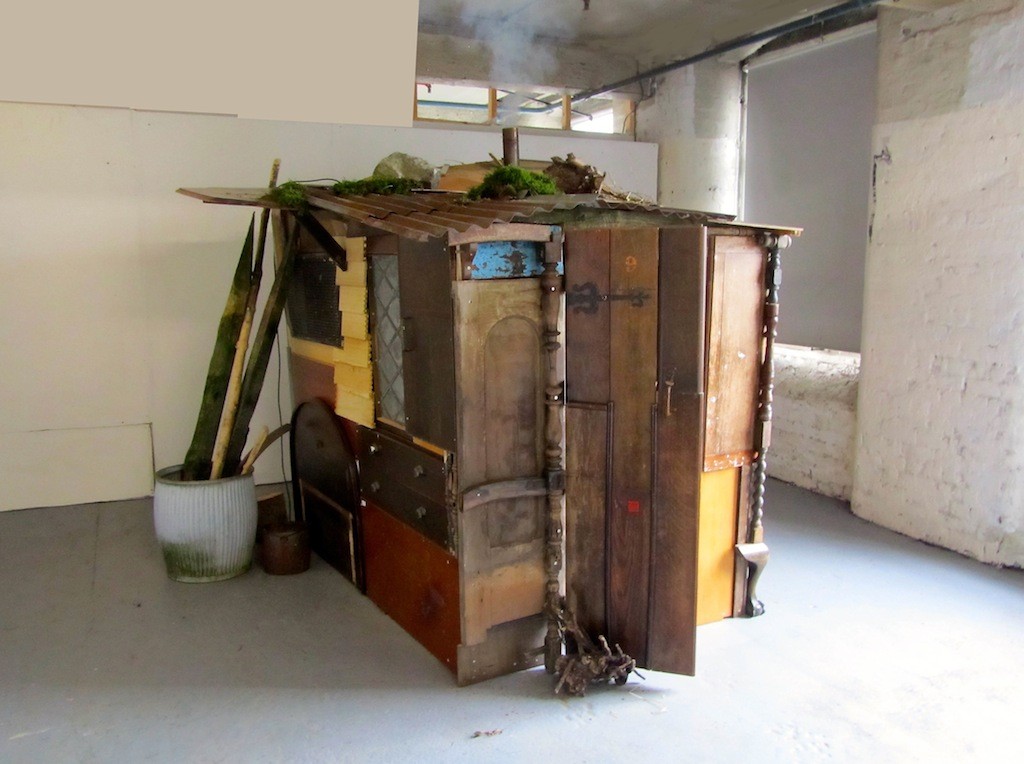 'Inside Outhouse' follows the sculptural vocabulary peculiar to Jack's work in which she scours skips, charity shops and the wild woods for raw materials that, on there own may be disregarded as junk but, together, are much more than the sum of their parts. In this case the final sculpture on display is indeed and 'Inside Outhouse' and is made up of worn, warm sections of ancient and reproduction furniture. It is almost recogniseable as the familiar dwellings that haunt our childhoods via the fairytales of the brothers Grimm. The intimate and homely nature of the work creates a startling contrast to the towering glass walls and clean lines of MediaCityUK. Quite a divergence from the piece's next home which will be a bluebell wood.
About the Artist
Hilary is based at Rogue Studios. She studied at MMU for an MFA in 2003, has a post grad diploma from Goldsmiths and the Hungarian Academy of Art. She was shortlisted for Becks Futures 2003 and 2004 as well as LOCWS International. Recent shows have been a solo show at Castlefield Gallery and Carter Presents London. Notably, she was selected for a new commission for 'Flights of Fancy' for The Tatton Park Biennial 2012 with her beautiful elegiac piece entitled 'Empty Nest' which was re commissioned along with the exhibition 'Empty Next Archive' for the annual programme at Compton Verney in 2013.