FREE Public Tours of the festival are being offered on Saturday 16th Dec & Sunday 17th Dec at 4pm
Meeting at I FORGOT on the Lowry Plaza
No need to book if you are interested please arrive as stated above our Quays Culture team will provide you with a full tour of what Lightwaves has to offer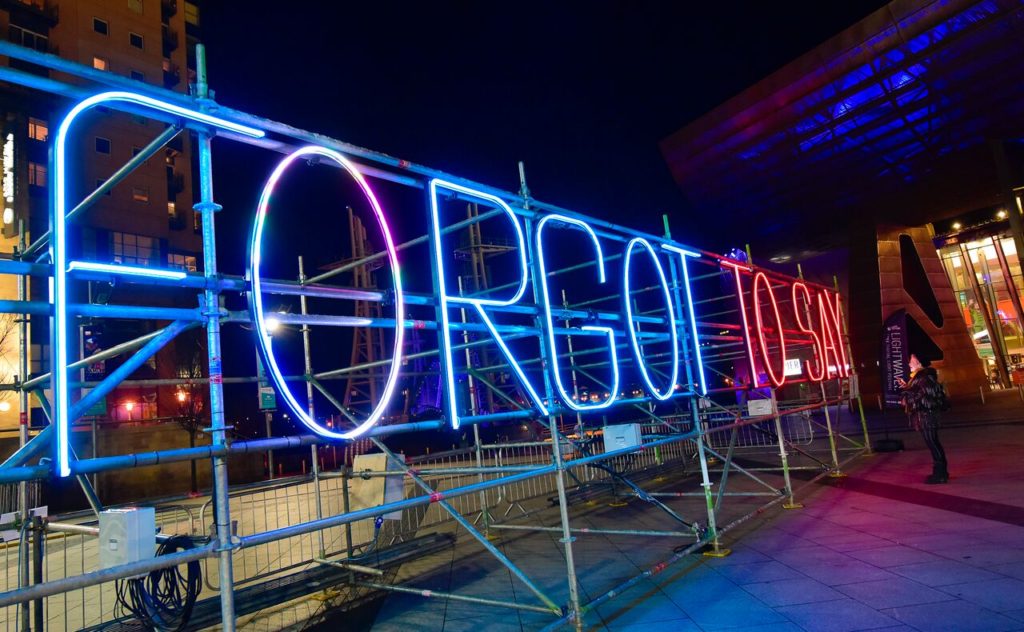 Image credit Joel Fildes
LIGHTWAVES 2017 LAUNCH WEEKEND 8 – 10 DECEMBER
Special Event Details
HONOUR CHOIR – Fri 8 December – 7pm
To celebrate the launch of #Lightwaves2017, Honour Choir return for a special performance on the Plaza outside the Lowry at 19:00 on Fri 8th Dec. Don't miss it!
BABY MOVES – Sat 9 December – 10am -11am
This year as part of Lightwaves 2017, we are excited to be offering exclusive bite-size toddler moves sessions in partnership with Baby Moves, a leading UK baby development programme. These FREE Baby Moves taster sessions are open to parents & carers with babies and toddlers aged 6 months to 2.5 years. This is a fun way to encourage children's physical and social development through sensory and creative play. These one-off interactive sessions will be held on the ground floor of the Lowry Outlet on Sat 9th Dec, from 10:00-11:00. Places are limited and will be allocated on a first-come-first-serve basis.
FREE LIGHT GRAFFITI WORKSHOPS,
9 – 10 December & 16 -17 December 12:00 – 2:30pm & 4:30pm – 7:30pm
Come and enjoy a free LIGHT GRAFFITI session led by artist Sarah Wakeford. Fun for all ages, playing with light to create your own pictures. No booking required, just turn up! Located on the ground floor of the Lowry Outlet.
HOWL – Fri 8 – Sun 10 December
Brink Dance Company and Howl Creative present this collaborative installation combining live dance performance with projections of digital and physical worlds. Located in the University of Salford foyer (as shown on the Festival Programme map)
Opening times: 8 December 6pm-.9.30pm & 10 December 12:00 – 9:30pm
With live dance performances at: 8 December 7:15pm, 8pm, 8:45pm. 9 & 10 December: 5:30pm, 6:15pm, 8pm, 8:45pm.
A SHINE commission in partnership with Leeds Light Night and Leeds Dance Partnership
Quays Culture have been invited to work with British Council in Istanbul to bring UK artists Squid Soup to run a two-week residency to Turkish artists. The idea is to develop artists in Turkey to learn digital art practices. A film of this international partnership is screened daily at 3pm and 8pm on the MediaCityUK outdoor screen. Link to view the film online here:
Creative Prototyping Data Generated Art – led by Invisible Flock
Sat 9th Dec, 14:00 – 17:00
Lowry Galleries – FREE public workshop (no booking required but capacity will be limited so arrive promptly to secure your place)
An introductory workshop led by Invisible Flock about using digital technology to invent, create and prototype data driven interactions.
Aimed at those interested in installation, performance, visual art or any other creative practice that builds explicit invitations or an opportunity for provocation, this workshop will be a primer on how to think interactively, prototype fast and create objects and systems that are playful, responsive and digital.
The workshop will focus on techniques, processes and tools to quickly experiment and iterate the creation of accumulative, crowd sourced artworks, exploring the use of digital media to tell stories and layer narratives.
Using internet connected systems, the voice, sound, light, mechanical objects and easy to use hardware, participants will explore far reaching creative ideas without restricting ambition.
No previous experience of working with digital tools needed
---
Lightwaves returns to Salford Quays: Home of MediaCityUK from 8-17 December 2017.
We're planning another stunning programme of digital light art set to take over public spaces for an unforgettable 10 days. Stay tuned for further details. This year we have not one but two new large-scale commissions as well as other selected artworks from the world of technology and outdoor art.
Artworks to include a new interactive word sculpture by international poet and author Jackie Kay, new commissions from emerging talent, a dynamic waterside sculpture of light and sound by Tom Dekyvere, the return of the popular light painting workshop where you can make your own images to download, and once more we've raided the Blackpool Illuminations for characters from sci-fi and Children''s TV. Trekkies watch this space!
What is Lightwaves? Take a look at last year's edition for an insight into this exciting winter event.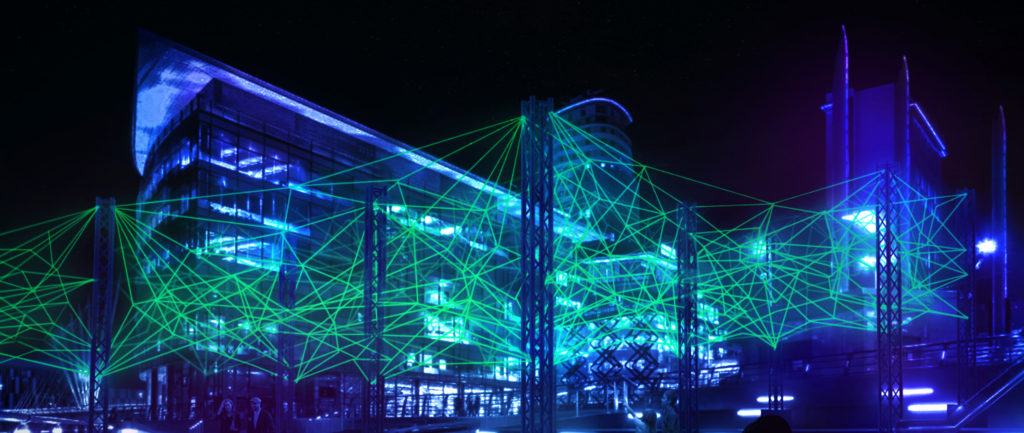 Artist CGI visualisation for Lightwaves 2017 by Tom Dekyvere
Lightwaves16 was covered by local and national broadcast and media, shining a spotlight on the region's cultural achievements