16 July 2016, The Piazza, MediaCityUK
Acclaimed UK dance company Motionhouse took to the stage at MediaCityUK for a free, one-off, outdoor staging of their earth-shattering production, Broken.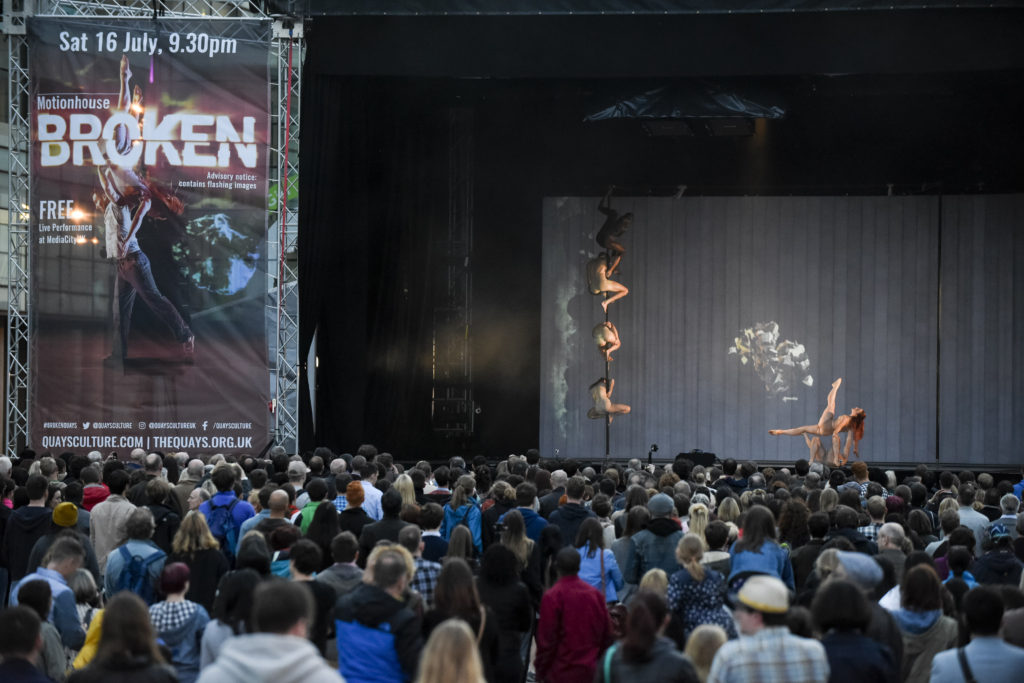 Broken by Motionhouse – Image by Joel Chester Fildes
In the spirit of past performance events shown to thousands of people at The Piazza, this summer, Broken shook up The Quays in ways never seen before.
Erupting onto the stage in an adrenaline filled multi-media spectacle, this awe-inspiring show had something for everyone. Athletic contact work, spectacular acrobatics and a gripping narrative combine with a revolutionary set design, an amazing musical soundtrack and digital imagery which melded with the performers as they moved.
Press Quotes
"This great, surging spectacle from Motionhouse makes you feel as if you have been present at the creation and destruction of the world. It's cataclysmic. High impact doesn't even begin to describe its mix of athletic movement, thunderous soundtrack, searing music and a digital film background so clever and deceiving that it absorbs the dancers into its imagery."
The Stage
"A heroic cast of six slaloms through a series of scenes, starting with The Big Bang, delving down towards the Earth's core. There's a definite circus-style slant to the gut busting choreography devised by Finnan and his ensemble…a remarkably strong, acrobatic sextet endowed with an admirable go for broke stamina. The beauty lies in how well Finnan and his collaborators impart an elemental understanding of humanity's place within the cosmos… determined to mine the greater forces of nature [the show has] a sleek, swift, wow factor."
The Times
Gallery
Credits
Presented by Quays Culture and Motionhouse
Funded by Arts Council England, AGMA and Salford City Council
Broken is commissioned by Warwick Arts Centre, Watford Palace Theatre, Blackpool Grand, mac and Swindon Dance
Supported by Peel | MediaCityUK