January – March 2015, The Egg Suite, University of Salford
At the heart of Britain's new home of broadcasting, MediaCityUK, this pop-up exhibition took audiences through glimpses into the history of television and radio broadcasting, showing how we used to listen to the radio in the 1920s, what relation Mickey Mouse had to the BBC's only break in broadcasting and how they tried to help thwart Nazi attempts at impersonation during the Second World War!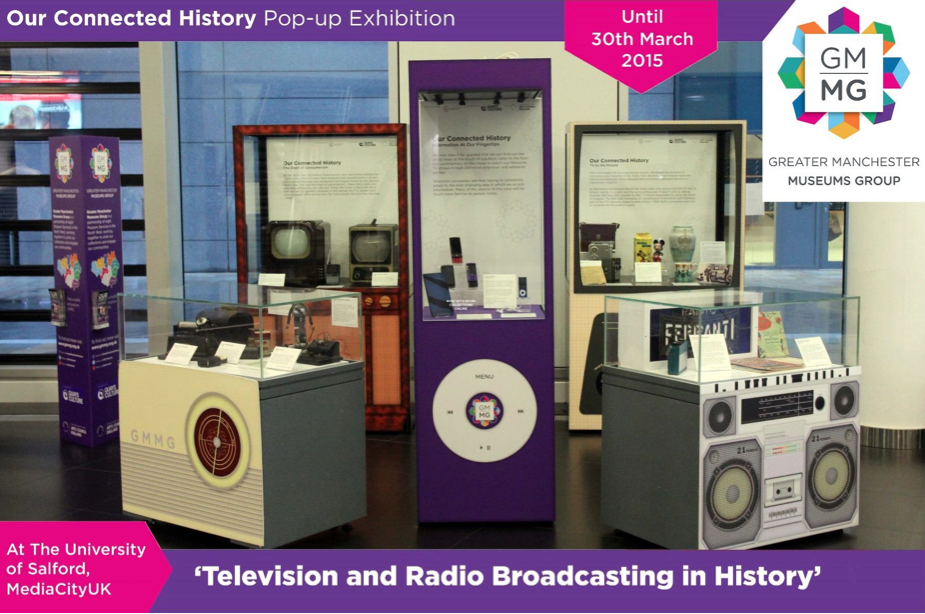 With some objects well over 100 years old the display took visitors on a rapid journey of change and development in media and broadcasting. Beginning with phonographs and 'cat's whiskers' radios from the 1900s, through super stylish televisions of the 1950s and 60s, right up to today's way of watching football on the go!
The exhibition was part of the 'Our Connected History' Project, a two year programme of pop-up exhibitions in which Greater Manchester Museums Group encourages its visitors to discover and explore unique and inspiring collections from across the Greater Manchester Region.
The exhibition has been produced in conjunction with Quays Culture, and can be found in the 'The Egg' Suite, in the entrance to the Salford University building. The building is open 9am until 6pm daily and the exhibition is free to visit. This display will last until 30th March 2015.
Visitors can pick up a brand new double sided leaflet highlighting the wonderful collections and inspiring experiences across the Greater Manchester Museums Group. It features an easy to use map that will help guide the visitor around the 21 brilliant venues from local history museums, impressive historic houses and time-travelling experiences. Visitors can find out about, opening times and how to get there by road, rail or tram.
Other GMMG Our Connected History displays in local museums will run until summer 2015.
"Greater Manchester Museums house world class collections that have also toured internationally to great success and continue to inspire and engage new audiences. We are delighted to be working in partnership with Quays Culture, MediaCityUK and The University of Salford to give more people access to the rich collections that we hold across the region." – Emma Varnam, Chair of GMMG
Credits:
Presented by Quays Culture and Greater Manchester Museums Group
Greater Manchester Museums group (GMMG) consists of 8 Greater Manchester museum services: Bolton, Bury, Oldham, Rochdale, Salford, Stockport, Tameside and Wigan. They have been working together for over ten years on innovative projects that unite their collections and engage their communities.
Funded by Arts Council England – Museums Strategic Support Fund 2013/14 and 2014/15