2017 Projects
Lightwaves 2017 (8 – 17 December)
Lightwaves ran for ten days across the outdoor spaces at Salford Quays, all free for visitors to enjoy.
Highlights included Tom Dekyvere's Hydrozome over at MediaCityUK which had audiences jumping to create light and sound interactions with the enormous sculpture of rope.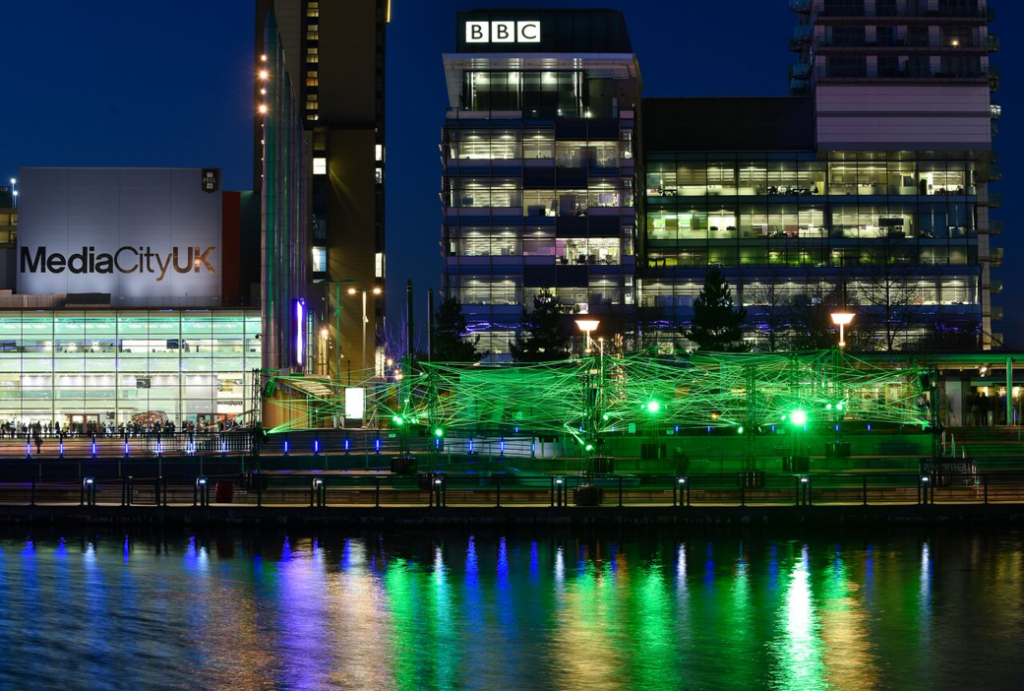 I FORGOT by Jackie Kay and Soup Collective created the enormous interactive 15 metre neon words on the Lowry Plaza, with audiences having live interactions with the glowing artwork as they phoned in to leave their own messages of what they forgot to say.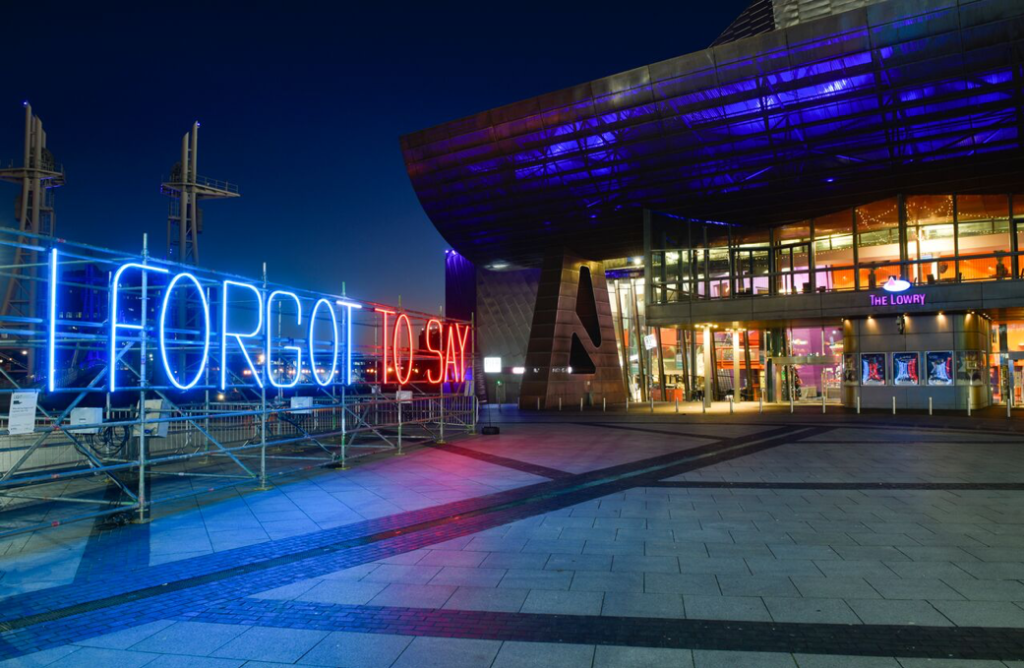 Sarah Wakefield had over 600 visitors to her light Graffiti workshops as friends and family flocked to make their own light art, and our 100 Faces & Places submitted to us by the people of Greater Manchester was a favourite.
Our friends at Blackpool Illuminations pulled out all the stops again to present a fabulous collection of scenes that related to Children's TV, sci-fi tech and water locations.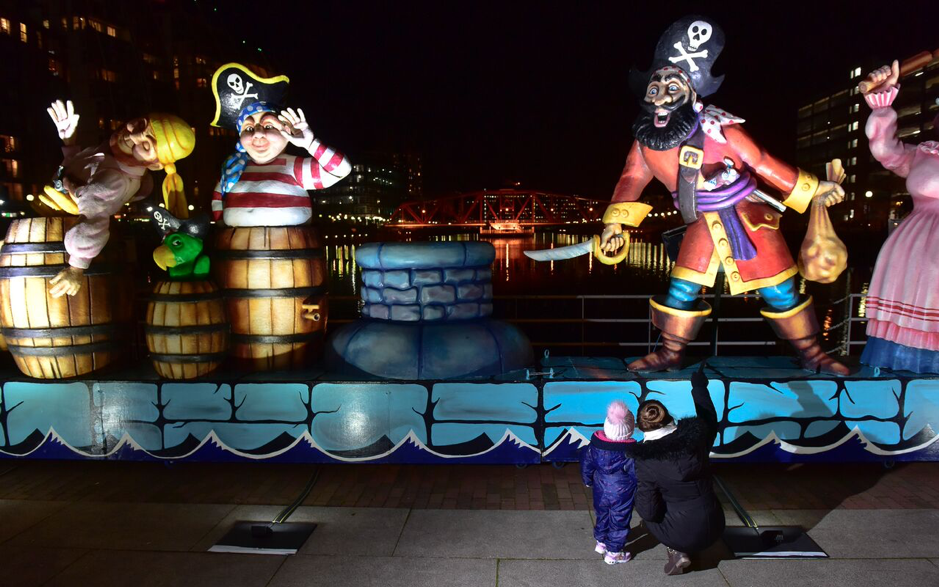 I FORGOT
By Jackie Kay in collaboration with Soup Collective 
This was a brand new commission for Lightwaves 2017 ( 8 –17 December 2017)
International novelist, University of Salford Chancellor and Scotland's national poet, Jackie Kay produced a brand new, large-scale commission neon word sign, which spans 15 metres in length across the Plaza outside The Lowry.  Jackie Kay was invited to choose a sentence that for her sums up this year.  The neon (LED) word art spelt out 'I Forgot To Say,' with the latter, 'To Say', illuminating and increasing in intensity and colour when audiences leave their messages. In response to the messages left, Jackie Kay will produce a brand new poem in 2018.
Jackie Kay's first poem is here below.
I Forgot to say
I forgot to say
I do love you, or even goodbye, that day,
at least I think I forgot –
the problem with forgetting is
you're never sure what you've forgotten –
but either way, I'm not one hundred percent
what difference it would have made anyway.
I forgot to say,
come what may,
the seen, the unforeseen,
this endless day,
I will love you anyway;
even when facing the other way…
or when your faults accumulate by the day,
or when looking back things go astray,
or when the good memories will not stay,
or when nothing stands in the way
of this heavy, very heavy heart, hey,
this old heart of mine…
and nothing can be done, eh?
I forgot to say
that if the dead still live
although I leave you, day by buried day,
day by burnt ash day,
it's a bright blue winter's sky, bare trees,
and all that obstructs the path of love
is the kick of leaves.
I forgot to say a proper goodbye, au revoir,
adieu, auf wiedersehen, laters…
to think, before I said the heart-stopping words,
to get it right in my head.
I forgot to say I'm forgetting things.
But anyway, it was only yesterday,
only I think yesterday
when I forgot to say
I love you, my dear, most dearly.
So, let me take back I love you,
or take back the farewell.
Or forget it… and forget it.
Istanbul with British Council
Quays Culture were invited to work with British Council in Istanbul to bring UK artists Squid Soup to run a two-week residency to Turkish artists. The idea was to develop artists in Turkey to learn digital art practices. Squid Soup were commissioned by Quays Culture for Lightwaves14
We also worked with British Council to build new relationship in Quebec, Canada.
AltCity Istanbul is a partnership project by the British Council and Digital.logue, an interactive platform supported by Zorlu Holding and Zorlu Performing in Arts Centre to accelerate digital transformation.
To view the film about the residency, please see below video:
https://www.youtube.com/edit?o=U&video_id=hY1yUPE8TZ8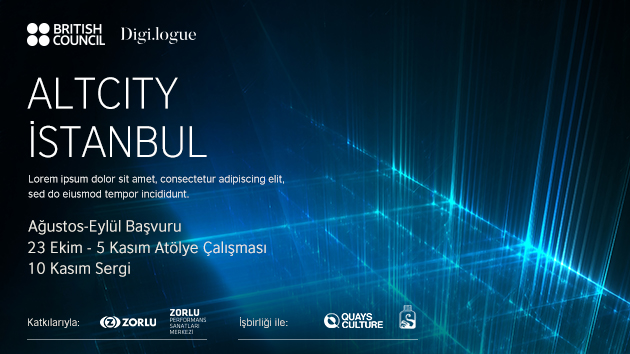 Cultural Connections with Duet
2017 is set to be a major year of cultural exchange between the UK and India. To celebrate this, Quays Culture have co-commissioned an exciting new project which will run throughout the year, connecting the people of Greater Manchester and India in a new and intriguing way. DUET is an ambitious piece of work about finding space for reflection, expression and connection in our daily lives. DUET anonymously connects participants from the UK and India, allowing them to build a unique relationship with someone on the other side of the world for up to a year. Participants are invited to exchange details of their lives by answering one question a day through an app. Prompted by duet, a participant gradually builds a picture of their partner and their surroundings through shared messages.
The app is now live and can be downloaded for both iPhone and Android.
Tell us about your experiences of using the app on social media using the hashtag #DuetApp and see what else is going on during this year of cultural exchange through #UKIndia2017
DUET is a collaboration between Invisible Flock (UK) and Quicksand (India), check out the Duet App website for further details
A collaboration between Invisible Flock and Quicksand. Funded by Arts Council England and the British Council. Co-commissioned by Yorkshire Design Group, Quays Culture, the V&A, Threshold Studios and Quest Alliance. Supported by East Street Arts, Unbox and BLOT. Users must be aged 18 and over. For full terms & conditions, visit the Duet website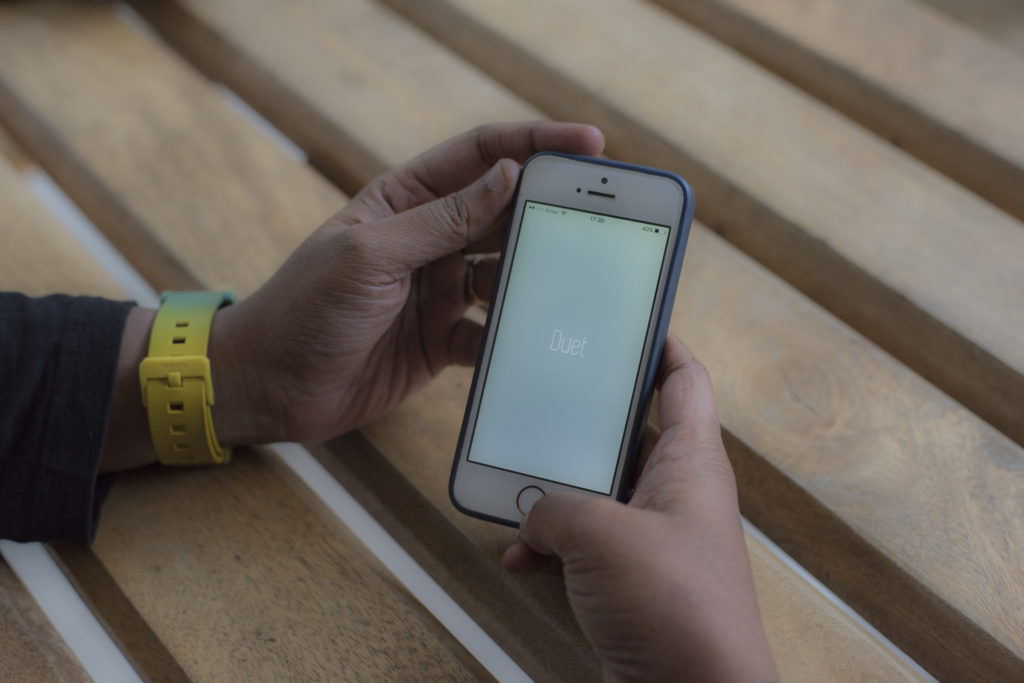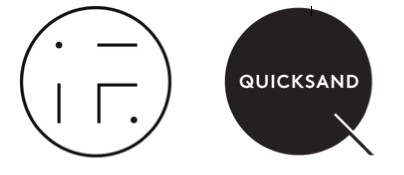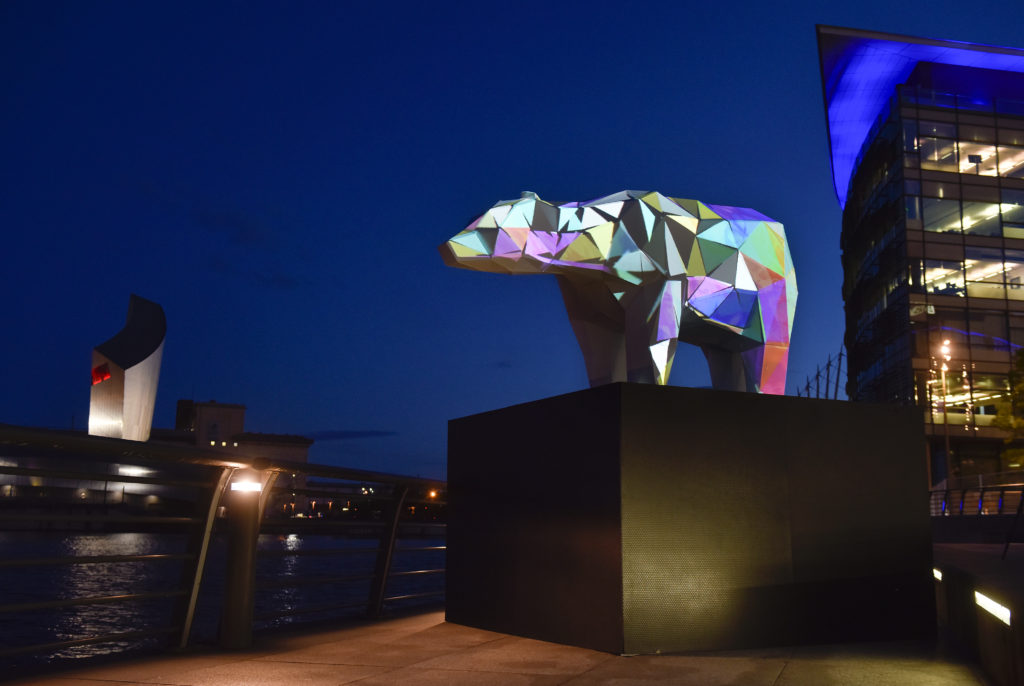 Unnatural Borders exhibited a quartet of endangered animals by the dockside of MediaCityUK over 10 days in May 2017. The project commissioned European artists Sober Industries to construct a polar bear, red squirrel, bee and whale. The sculptures ranged from two to four meters in length, making a real impression on audiences.
By day the animals set an impressive skyline and started discussion around endangered species and human impact on the planet. By night the sculptures came to life as they were illuminated by stunning projected animations. The festival hosted a series of talks and workshops for visitors  from Greater Manchester and beyond to help everyone to find out more about this mix of sculpture and cutting edge technology.
Quays Culture now own the beautiful Squirrel and it is available hire and to tour