Current Projects
Lightwaves 2018 – Dates and information on what to expect from this years event!
This winter,we will host the UK's only digital light festival, at Salford Quays: Home of MediaCityUK. The annual festival, Lightwaves 2018  will showcase inspiring digital light art; illuminating the public spaces for an unforgettable 10 days, from Friday 7 December until Sunday 16 December 2018. #Lightwaves2018
Featuring new and exclusively commissioned digital art displays alongside emerging talent, and light workshops from local, national, and international artists. Lightwaves 2018 will bring light to those dark winter nights, as 16 FREE light experiences span across Salford Quays and MediaCityUK.
Two major commissions that visitors can engage with include Hooded Youth from internationally recognised, and renowned London-based artist, Stanza, and SPECTRUM from Montreal based collaborative, HUB – a co-commission, and part of an exciting international collaboration with Montreal's Quartier des Spectacles.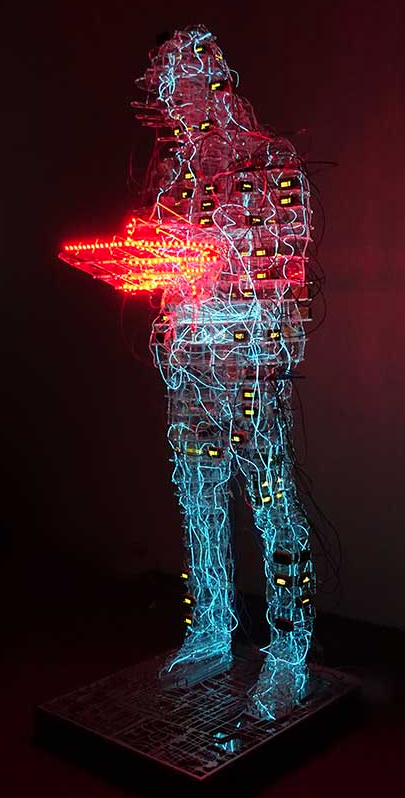 Hooded Youth by Stanza
Following an open call for proposals from UK and Quebec (Canada) based artists; Montreal based collaborative, HUB Studio have been selected to create the major new artwork Spectrum.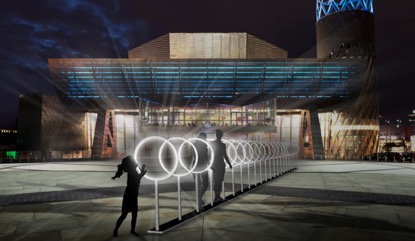 Hub Studio, a multimedia studio in Montreal, will assign multi-disciplinary artists from its studio to be the creative figureheads responsible for this new commission. This new art commission for Lightwaves 2018 will sit within the studio's creative ethos to 'bring people together to create meaningful experiences, through the crossroads of arts, design and technology.'
Spectrum is an interactive installation that invites audiences to talk to the artwork to trigger illumination of the chain of large hoops of light. The idea is to encourage people to engage with the installation, to activate lights and sounds that travel from one side of the artwork to the other. Spectrum illuminates how we ourselves communicate, and how we decode data with multiple sensors.